Published On
Kylie Jenner seen kissing Timothee Chalamet at the US Open Final 2023 after viral Beyonce Concert; Watch
Kylie Jenner and Timothee Chalamet's latest public appearance fuels romance rumours, adding more sizzle to the speculation. Author :
Malkit Singh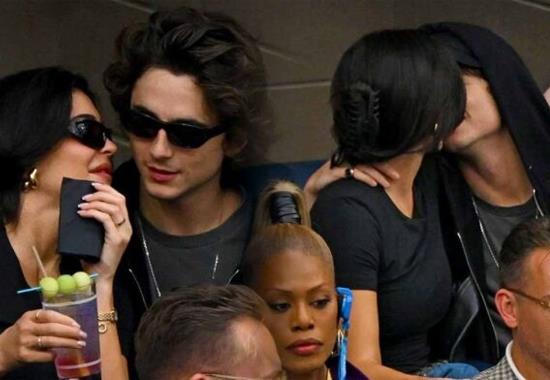 The "Dune" heartthrob, Timothee Chalamet, and the beauty tycoon, Kylie Jenner, were spotted together kissing at the US Open Men's Final, setting fans into a state of excitement.
The Fashionista, Kylie wore a stylish black tee and matching sunglasses while holding a Grey Goose Honey Deuce cocktail casually. Meanwhile, Timothee wore a dark grey tee, a black hoodie and shades inspired from 'Men in Black'.
Kylie Jenner e Timothee Chalamet | Best song ever

— 📁 (@feelingsclarke)
In candid moments, Kylie can be seen leaning in to kiss with Timothee during the intense game, and they both seemed thoroughly engrossed in the tournament alongside fellow spectators.
However, this week has been eventful for these two celebrities. They were the centre of attention at Beyonce's Renaissance World Tour concert at SoFi Stadium just days before their US Open appearance. When the two were seen sharing a private moment while Queen B performed.
pic.twitter.com/H3ii1wpUiZSeptember 11, 2023Also Read: Pushpa 2 Release Date & mystery of Allu Arjun's extraordinary pinky fingernail length revealed
Throughout the evening, the couple was swaying to the music and sharing tender moments.
As per the reports, neither Kylie nor Timothee have confirmed or denied their relationship status, leaving fans in suspense.
Many fans are baffled by the fact that the two A-listers, who come from different parts of Hollywood, are romantically linked. One of their fans took to the comment section and commented, "Kylie Jenner and Timothee Chalamet dating feels like when two people from your high school who never interacted start dating like 6 years after graduation."