Published On
Lauren Boebert Video: Why Republican Congresswoman was kicked out of 'Beetlejuice' musical?
Lauren Boebert was allegedly kicked out of a musical play in Colorado for disruptive behavior and falsely denying she had been vaping. Author :
Malkit Singh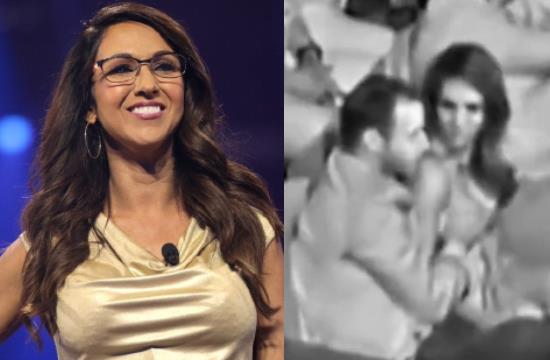 Republican Rep. Lauren Boebert has been buzzing on social media after she was escorted out t of the musical "Beetlejuice" on Sunday along with her alleged boyfriend after multiple complaints from people present inside the theater. As per reports, Lauren Boebert was kicked out of a musical play in Colorado for disruptive behavior and then falsely denying she had been vaping. Apart from vaping, Lauren Boebert was reportedly involved in an X-rated act in the theater which was caught on CCTV camera inside the theater. The situation became so uncomfortable that many people around complained about Lauren Boebert's lewd behaviour and therefore the Congresswoman along with her boyfriend was forced to leave in the middle of the event.
Lauren Boebert viral video shows, the Republican Rep. getting intimate with her partner inside the theater. While there is a massive crowd can be seen sitting inside the theater, Lauren Boebert and her partner can be seen making out at the same time. As per US media reports, the Buell Theater surveillance video further shows officials addressing Boebert and her companion at their seats inside the theater. After several minutes of conversation, they can be seen getting up and following officials out of the theater.
Denver Arts & Venues responded to an Email by a US media portal saying that an incident involving theater officials escorting two patrons out of the theater after they received three different complaints that the patrons sitting in Orchestra C Row E seats 1 and 2 were "vaping, singing, causing a disturbance."
Also Read: Sergey Brin-Nicole Shanahan divorce reason: How Elon Musk is responsible for Google co-founder & his wife's split?
Do you support Lauren Boebert on Capitol Hill? pic.twitter.com/U6b13CM0zD

— Ian Jaeger (@IanJaeger29) September 18, 2023
We know what Lauren Boebert is doing with her boyfriend at a movie theater but we don't know where a $85+ million dollar F-35 fighter jet is 🧐

- BIDENomics pic.twitter.com/eVfKJypCkF

— Marjorie Taylor Greene Press Release (Parody) (@MTGrepp) September 18, 2023
It is pertinent to mention here that due to sensitive content of the video which may be inappropriate for some of the readers, True Scoop News has decided not to incorporate Lauren Boebert theater video in the content.