Published On
LPU Student's suicide: Case registered against NIT Calicut (Kerala) Professor whose name was mentioned in Suicide note
On the matter, ADGP Law and Order Arpit Shukla said that the youth who committed suicide had written three suicide notes
Author :
Samriti Bharadwaj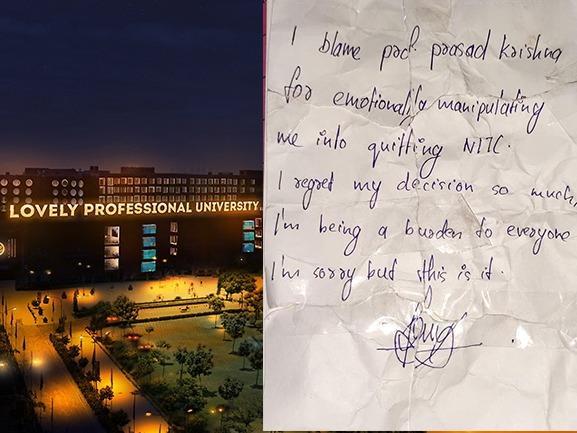 A 21-year-old bachelor of design student from Kerala died by suicide in hostel at Lovely Professional University (LPU) in Punjab's Phagwara on Tuesday afternoon. As soon as the incident came to the limelight, the Police reached the college and took cognizance of it.
On the matter, ADGP Law and Order Arpit Shukla said that the youth who committed suicide had written three suicide notes. On one suicide note, the name of the professor was written. ADGP said that the suicide note which was going viral is a true suicide note. A case has been registered against the professor whose name is mentioned in the suicide note.
LPU's Kerala-based student in his suicide blamed a professor at NIT Calicut who manipulated him to quit the college. "I blame professor Prasad Krishna for emotionally manipulating me into quitting NIT Calicut (Kerala). I regret my decision so much, I'm being a burden to everyone. I'm sorry but this is it (SIC)", the LPU student wrote in his suicide note. Reportedly, the deceased student had joined LPU only 2 weeks ago. Earlier, he was studying at NIT Calicut for 2 years where Prof. Prashad Krishna allegedly forced him to drop out of college.
DSP Phagwara stated that prima facie the student was having some personal issues. Furthermore, it was also revealed that the student had left a suicide note. The Lovely Professional University also confirmed the suicide case and stated that the college administration is providing full support to the authorities for further investigation.