Published On
Ludhiana: 2 arrested for killing Nihang Singh with sharp weapons; body was found on the bank of Doraha canal
The deceased Gurmail Singh used to sell Deg Pani (Ghota) in a hut near Doraha Military Camp for 9-10 years
Author :
Samriti Bharadwaj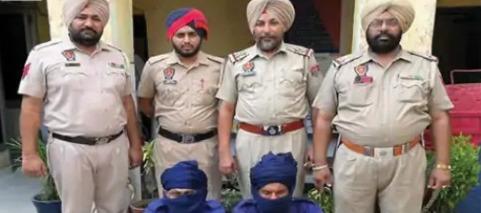 The murder case of Nihang Singh in Doraha, Ludhiana, has been solved by police. In this case, the police have arrested two Nihang Singhs. They had both murdered Gurmel.
According to the information, the deceased Gurmail Singh used to sell Deg Pani (Ghota) in a hut near Doraha Military Camp for 9-10 years. Nihang Singh of his group used to come near Gurmel to drink water.
In the statement given by the police, Balwinder Singh said that Gurmail Singh, a resident of Nabha, used to live near him earlier. At night, he used to sleep in a hut built under the bridge. Two Nihang Singhs visited his hut on August 31 around 9 a.m. They both used to visit Gurmail Singh in the past. They have been identified as Amandeep Singh Gora, resident of Thana Channawand district, Ganga Nagar, Rajasthan and Kuldeep Singh, resident of Khanna, Ludhiana. Both of the suspects spent the entire day conversing while sitting in a hut close to Gurmail Singh.
Both of the accused drank the Ghota in the late hours of the night. Gurmail Singh eventually requested them to go, but they insisted on staying despite his request. Gurmail Singh and the accused fought as a result. They killed him during this.
According to Balwinder Singh, Harjinder Singh, alias Pappi, informed him that Gurmail Singh had been murdered when he arrived at his home on the morning of September 1. Gurmail had only told the accused not to stop unnecessarily near his hut. Due to their outrage, the Nihangs killed Gurmel. Both of the accused were taken into custody by police at Garewal Dhaba Main Highway Service Road Doraha. The accused will be arrested and produced in court and remand will be taken.