Published On
Ludhiana: ESIC launches special Yoga fortnight for Industrial workers
Employees' State Insurance Corporation is a statutory body under the ownership of Ministry of Labour and Employment, Government of India
Author :
Sukhmani Kaur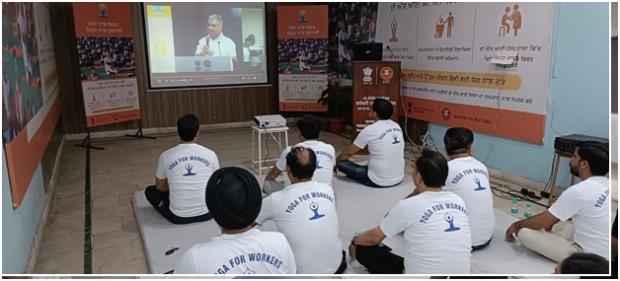 The Employees' State Insurance Corporation (ESIC) under the guidelines of the Ministry of Labour and Employment, Government of India is celebrating Yoga Fortnight from 07.06.2022 to 21.06.2022. The theme of this year's International Yoga Day-2022 is "Yoga for Humanity". With this theme, ESIC is celebrating 'Yoga fortnight' to promote Yoga among the workers. This Yoga fortnight will end on the day of 'International Yoga Day' on 21st June 2022.

Minister for Labour and Employment, Environment, Forest and Climate Change Bhupender Yadav today virtually launched this programme on 07.06.2022 across all locations of ESIC through digital medium from New Delhi, in the presence of officers/employees working in all the offices/hospitals of the corporation.

Sh. Sunil Kumar Yadav, Dy. Director Incharge along with Officers and Staff of Sub Regional Office, ESIC, Ludhiana enthusiastically participated in this programme and practiced yoga.

In this special programme which would last for fifteen days, special yoga camps to be organized daily in the sub-regional office, Ludhiana and also yoga sessions are being organized in various industrial clusters of Ludhiana for workers and their dependents.
On 07/06/2022 one such camp was organized at M/s Bonn Nutrients Pvt. Ltd. where 40-50 workers attended the camp in the presence of Sh. Sunil Kumar Yadav, Dy. Director (SRO I/c), Dr. Bhairavi Deshmukh, Medical Suprintendent, ESIC Hospital, Ludhiana and Sh. Parveen kumar, CEO and Sh. Mehak Singh, HR Manager, M/s Bonn Nutrients Pvt. Ltd. Today i.e. 08/06/2022 another camp has been organised at M/s Nahar Spinning Mills where Sh. Anil Sharma, Vice President of the Unit was also present along with Team of Doctors and Yoga Trainer from ESIC Model Hospital, Ludhiana.
These sessions will mainly focus in the direction of promoting "the importance of yoga and cleanliness for better health care". And how through yoga a person can simplify his lifestyle.
Special Yog asanas have also been demonstrated for prevention of various diseases In addition, general health checkup camps and health talk would be organised daily in ESIC Hospital, Ludhiana for the Insured persons and their family members.

A special cleanliness drive will also be conducted in the residential colonies/Bastis of the workers working in industrial units during the fortnight.

To promote ancient and traditional systems of medicines, a total of 329 AYUSH units in ESIC Hospitals are functional across the country, where treatment is being provided to workers and their dependents through Ayurveda, Yoga, Unani, Siddha and Homeopathy system.