Published On
Ludhiana: Oppurtunity for self employement, youth to get loan worth Rs.12.70 crore
Azadi Ka Amrit Mahotsav is an initiative of the Government of India to celebrate and commemorate 75 years of independence and the glorious history of it's people, culture and achievements.
Author :
Sukhmani Kaur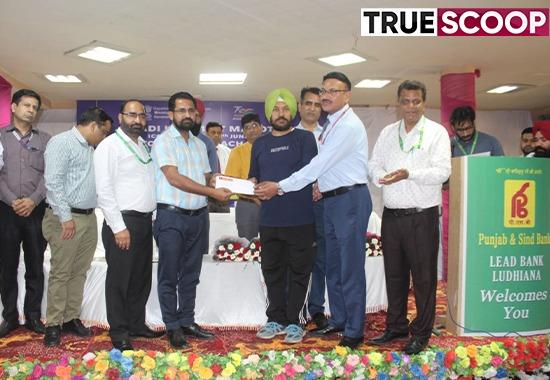 Assistant Commissioner (General) Kanwarjeet Singh today asked the banks to play a proactive role in opening new vistas of self-employment for the skilled youth by extending the loan benefit under various government schemes besides ensuring the welfare of the weaker and underprivileged sections of the society.

Presiding over an event held today here at Punjab Trade Centre to mark the ongoing celebrations under Azadi Ka Amrut Mahotsav, the Assistant Commissioner symbolically handed over the loan sanctions letters to as many as 25 youths to start their own enterprise.
These loans have been sanctioned by different banks under the various schemes to provide financial aid to unemployed youngsters to start their own businesses, he said, adding that banks must make concerted efforts to extend easy loans to the skilled persons so that they can earn livelihood and live life with dignity and pride.
During the event sanction letters to as many as 161 eligible beneficiaries were distributed with loan amount worth Rs. 12.70 crore under various schemes including MSME, Agriculture, Retail Loans, and others.

Mr. Singh further mentioned that such efforts would not only help in opening new avenues for self-employment for the skilled youth but also put our country on a high-growth trajectory.
He also stressed that the banks could play a leading role in transforming the destiny of underprivileged sections of society by extending the benefit of social security schemes. The assistant commissioner further underscored the need for granting maximum loans to unemployed youths at nominal rates so as to ensure their progress towards financial inclusion.

Meanwhile, he took a round at the counters set up by the banks during the event to sensitize visitors about the various loan and social security schemes being run by the government to serve the weaker sections of the society.
He directed the banks to hold awareness campaigns so that the information about these schemes could be disseminated to maximum people.

During the event Lead Bank Manager Mr. Sanjay Gupta said that under Azadi ka Amrut Mahotsav initiative, iconic week is being observed between June 6 to12, wherein such activities are taking place across the district. On the occasion NABARD DDM Sanjiv Kumar, GMDIC Rakesh Kumar, and managers of different banks were present.