Mahima Chaudhary opens up on her 'battling with breast cancer' Anupam Kher lauds her, Watch
Mahima Chaudhary has informed the fans about her breast cancer along with Anupam Kher. Anupam has told about Mahima's illness through a video and also called Mahima a 'hero'.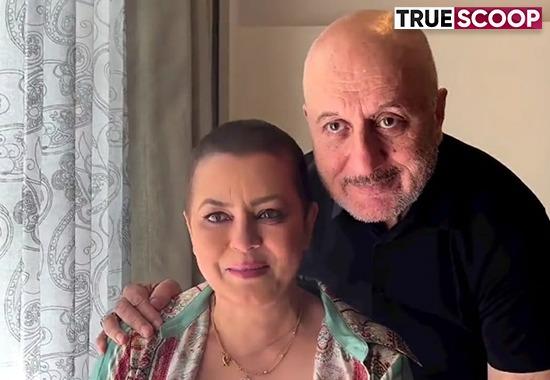 -

Mahima Chaudhary has informed the fans about her breast cancer along with Anupam Kher. Anupam has told about Mahima's illness through a video and also called Mahima a 'hero'. Mahima has also reshared this post on her Instagram. Her beautiful bald look is visible in the video. Mahima is back on the sets. Happily, she came to know about it at the very beginning through the screening.




Doctors have removed the cancer cells. Now she is fully recovered. Anupam has shared a video of about seven and a half minutes. Mahima has been doing her photoshoots by wearing a wig for so many days, that none of her followers could find out about this condition.





Anupam asked for wishes




Anupam Kher wrote in the post, I called Mahima Chaudhary from the US a month ago to play an important role in my 525th film The Signature. In the conversation, it was found that she had breast cancer. Her attitude will give courage to many women of the world. She wanted me to be with her in revealing this. Anupam Kher called the woman his 'hero'.




He also asked people to send their prayers, blessings, wishes and love. Anupam told that Mahima has returned to the sets. He also asked the producers and directors to give a chance to this talent. Mahima told what happened when Anupam Kher's call came.






Unable to tell lies
Mahima told that when the call came, the nurses were giving treatment. I knew you were in the USA. If there is a call from USS then I thought there would be some urgent. So I picked up the phone. When you told me about the film, I said that I would like to do it but you have to wait. You said no. I can't wait. Why do you want me to wait? Why is there so much noise in your house?
I couldn't lie because there were nurses. You were being told about the role. Then I told you everything in the night. Said can I come with a wig? Mahima told that Anupam told Kher that the treatment was taken due to which the hair went away and she cried while telling this.
Anupam said to do a film without a wig

Anupam Kher adds to his enthusiasm. Anupam also told Mahima that she doesn't necessarily have to wear a wig, she can do films like this too. Mahima said that she doesn't have the courage. Then Anupam said that they will do it. On this Mahima also thanked him.
How she got to know about breast cancer?
Anupam asks Mahima when did she come to know that there is breast cancer? Mahima told that there were no symptoms. Mahima told that she gets a screening done every year. Mahima's sonographer told her that she should go to the oncologist. When I heard, fortunately, I had taken a friend with me.
I never take anyone along for annual checkups. I went to Dr Mandar, he said that we will do a biopsy but it does not seem to be cancer. Some cells are pre-cancerous. Sometimes they become cancerous, sometimes they don't. But it is up to you whether you want to remove them or not. I said to be removed.
Didn't even tell her parents
When the biopsy was done, cancer did not come out. But I still wanted to get them out. When we got it removed and did a biopsy, it was found that there were some small cells which had become cancerous. Then came the chemotherapy. Mahima was very emotional during this process and cried in front of the doctors. She told that when it is detected early, it becomes fine. Mahima told that she did not even share this thing with her parents.