Mahua Moitra reveals 'filthy' Parliament Ethics Committee queries; 'Who do you talk to at night?'
TMC MP revealed what did Parliament Ethics Committee asked Mahua Moitra or what were Parliament Ethics Committee's questions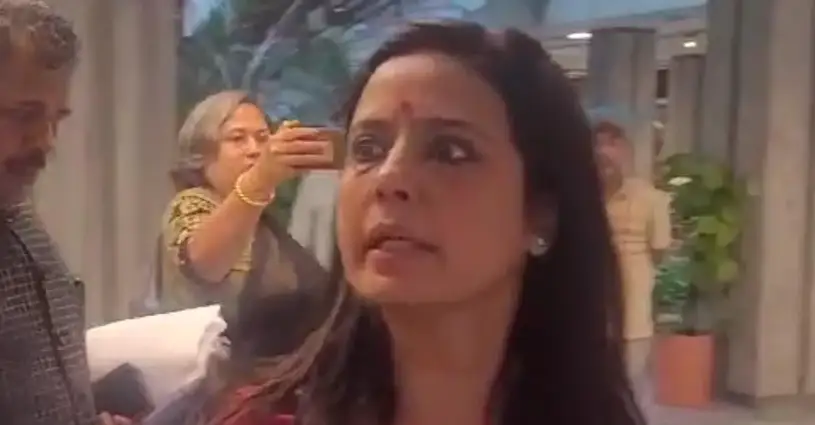 -

Trinamool Congress (TMC) MP Mahua Moitra on Thursday appeared before the Parliament Ethics Committee in the alleged cash-for-query allegations. TMC MP Mahua Moitra was summoned by the Parliament Ethics Committee after Darshan Hiranandani corroborated BJP MP Nishikant Dubey's allegations that she gave her Parliament login ID to Hiranandani to target the Adani Group and Prime Minister Narendra Modi in the Parliament. After a few hours of questioning, Mahua Moitra stormed out of the building and accused ethics panel chairperson Vinod Kumar Sonkar of asking her 'indecent personal questions'.

While at first Mahua did not reveal what exactly she was asked by the Ethics Committee Chairperson, the TMC MP has not finally revealed. While talking to a newswire, TMC MP revealed what did Parliament Ethics Committee asked Mahua Moitra or what were Parliament Ethics Committee's questions. To know the answer continue reading-
Parliament Ethics Committee's line of questioning to Mahua Moitra
"The person insisted on asking the most cheap sordid questions about my personal life including who do you talk to at night? How many times? Can you give me those call details? Have you been in a hotel with your ex? Have you stayed there? Where have you been in the last five years? Then he says, so and so your dear friend, does his wife know about this? "
"He was warned repeatedly. Only the chairperson was questioning, the rest of the BJP members were fine. The 5 MPs of the opposition protested vigorously and said you can't do this. They said that a Chairperson cannot humiliate a person. He said no I can do what I like. It continued, I told him many times, that I may be a witness but I am a citizen of India which has guaranteed my privacy. Second I am an MP. You can ask me anything about the inquiry, I will answer all questions. On the NIC questions, I will answer questions, on the supposed gifts I will answer the questions..."
Hinting that the Parliament Ethics Committee Chairperson acting on behalf of the Modi government, Mahua Moitra said, "Poor chap he was under the gun, every question he was reading. Not one question could he speak because he had nothing to say."
'Mahua Moitra abused Parliament Ethics Committee's chairperson'
BJP's Nishikant Dubey extended his support to Parliament Ethics Committee's chairperson Vinod Kumar Sonkar and stated that he was abused during the questioning by the TMC MP. "The chairman of the ethics committee, Vinod Sonkar, who hails from a scheduled caste, faced abusive language in the committee. He was referred to as a scoundrel in Parliament, called derogatory names, such as a Bihari goon and a Jharkhandi dog," Dubey wrote on social media X in Hindi.