Maja Ma OTT Release: Madhuri Dixit's musical drama all set to hit on web space, know story plot, and when & where to watch
'Maja Ma' is based on the life of a middle-class woman named Pallavi, the protagonist played by Madhuri herself, whose happy familial life begins to fall apart short ago before her son's wedding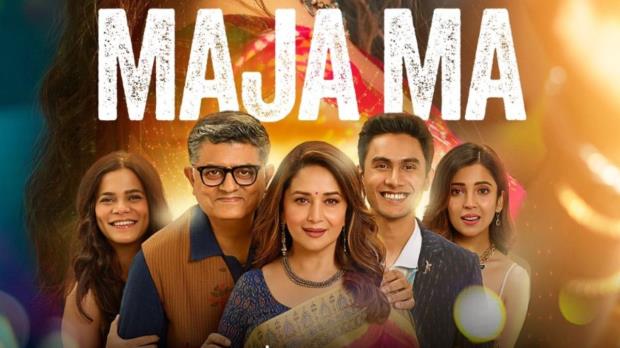 -

The Bollywood dancing queen Madhuri Dixit is in full shape to set the web space on fire with her upcoming musical drama Maja Ma. The project apart from Madhuri's return is special in regard to this because it is going to be the first Indian Amazon Original film

.

'Maja Ma' is based on the life of a middle-class woman named Pallavi, the protagonist played by Madhuri herself, whose happy familial life begins to fall apart short ago before her son's wedding.

It is an Anand Tiwari directorial who has worked with Prime Video's project Bandish Bandits. In the lead, the story features Tejas played by Ritwik Bhowmik, a regular guy from small-town India, whose life is at a constant tussle within the family. But, shares a very precious relationship with his mother.

But matters take a grave turn when a mysterious video of Pallavi goes viral, which throws a wrench in Tejas' planned wedding. This is when Pallavi takes matters into her own hands and declares that she is more than a wife, a mother, and a daughter; she has an identity of her own, and she's going to leave no stone unturned in getting the wedding back on track.

SSMB29 Update: SS Rajamouli in talks with 'Thor' Chris Hemsworth after deal with Hollywood talent agency CAA

Many critics comment the Madhuri Dixit starrer is framed in a tone of targeting a global audience. Made in an exact setting how a quintessential Bollywood movie appears to be, colorful, dramatic, and filled with a range of musical numbers.

Overall it is the return of one of Bollywood's dancing sensations, years later after quitting cinema Madhuri's hitting yet again will be a treat to watch. It was earlier this year when she made her web space debut with 'The Fame Game.'

Maja Ma will also showcase stars in the form of Barkha Singh, Srishti Shrivastava, Rajit Kapur, Simone Singh, Sheeba Chaddha, Malhar Thakar, and Ninad Kamat. The film is scheduled to release on 6th of the next month.