Maneka Gandhi accuses ISKCON of cow sales to butchers, sparking controversy
ISKCON firmly denies allegations, emphasizing commitment to cow welfare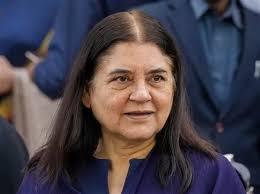 -

In a startling development, BJP Member of Parliament Maneka Gandhi has levied serious allegations against the International Society for Krishna Consciousness (ISKCON), accusing the organization of selling cows to butchers. Gandhi's remarks came during a viral video in which she asserted that ISKCON, renowned for its devotion to cow welfare, was engaged in unethical practices.

Viral Video Revelation

In the video delivered in Hindi, Maneka Gandhi exclaimed, "The most significant deceivers in our country…are none other than ISKCON. They maintain cow shelters and reap worldwide benefits from operating them with government support, receiving lands and various privileges. I recently visited their Anantpur Gaushala (cow shelter) and was dismayed to find not a single cow in good health. The entire dairy was devoid of calves, strongly implying that all had been sold to butchers. ISKCON is allegedly selling all their cows to butchers, a practice unparalleled in scale."

Concerns About Cow Welfare

Notably, a "dry cow" that has not produced milk was not found on the premises, raising concerns about the well-being of the animals.

ISKCON's Response

In response to these grave allegations, ISKCON has vehemently denied any wrongdoing. A spokesperson for ISKCON, Yudhistir Govinda Das, categorically refuted Gandhi's claims as "unsubstantiated" and "false."

ISKCON's Commitment

ISKCON has a long-standing commitment to the protection and care of cows and bulls, both in India and globally. The organization asserts that these animals are provided lifelong care and are not sold to butchers, as alleged by the MP.