Mass Layoffs Reason: Why the world is witnessing a MASSIVE job loss in 2023?
Going by the reasons given by the companies, the four common reasons for mass layoff are- Pandemic Boom, Over Hiring During the Pandemic, Fear Of Recession, Inflation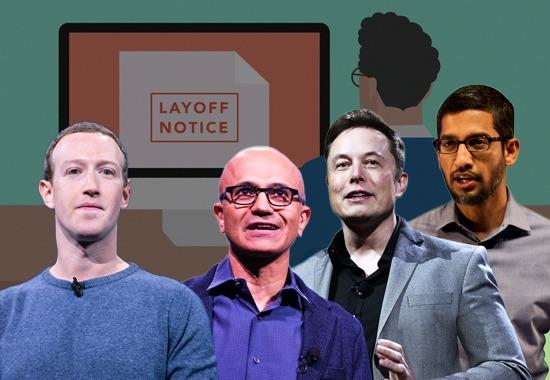 -

Common people around the world are terrorized by the mass layoffs as the majority of companies have been involved in the firing spree. From big companies to small companies including Google, Amazon, Microsoft, etc, the world has been witnessing mass layoffs. At a time when employees around the world are in fear of losing their jobs, many are still wondering why companies are opting for mass layoffs or simple mass layoffs 2023 reasons. Reasons like cost-cutting, subpar performance, and financial difficulties are being highlighted by the companies involved in the mass firing. While mass layoff has touched almost every sectors, it is the IT industry that are firing tens and thousands of its employees. So, here are a few reasons in point why the companies are opting for mass layoff 2023

Companies and Mass layoff 2023 reasons-

1) Microsoft- As per reports, Microsoft CEO Satya Nadella told employees in a blog post that the tech company will be laying off approximately less than 5 percent (10,000) of its global employee base due to a slowdown in customer demand and a potential recession ahead. Microsoft has a worldwide head count of around 221,000 people. Nadella further said while Microsoft is eliminating roles in some areas, it will continue to hire in "key strategic areas," although he did not specify the areas where Microsoft plans to hire. In October 2022, Microsoft laid off less than 1,000 employees in various departments just days before its first quarterly earnings report for the fiscal year 2023.

2) Meta- The largest tech layoff of 2022 occurred when Meta, the parent organization of Facebook, Instagram, and WhatsApp, announced on November 9 that it would be letting go of more than 11,000 employees, almost 13% of its workforce. As per reports, Meta took the harsh decision because it struggled with rising costs and plummeting ad revenues. Meta adopted various cost-cutting strategies in addition to firing almost 11,000 employees. By extending its freeze on fresh recruitment until the first quarter, the firm intended to reduce discretionary spending. However, it did not mention the areas that would be affected by the transfers or the estimated cost cuts.

3) Amazon- The layoffs were first announced by Amazon in mid-November 2022, affecting about 3% of its corporate employees. The company's device segment, which includes its Alexa products, as well as its retail and human resources businesses, were the main targets of its layoffs. It is the largest employment reduction that Amazon has ever experienced. Now, again in 2023, Amazon.com Inc. is set to begin a round of layoffs ultimately affecting more than 18,000 employees in the largest job cull in its history, which it announced earlier this month. The cuts come as the retailer grapples with slowing online sales growth and braces for a possible recession affecting the spending power of its customers.

4) Twitter- Elon Musk's arrival in Twitter turned out to be bad news for thousands of employees. Musk acquired the social networking platform Twitter for $40 billion, making it one of the most expensive acquisitions in history. Over 3700 employees were laid off after Musk took over the social networking platform, accounting for over 50% of the platform's global workforce, including senior executives and the former CEO, Parag Agarwal. As per Elon Musk, the job cuts have reportedly been done in order to make Twitter profitable as the company has been making huge losses on a daily basis. Interestingly, Twitter sacked nearly 50 per cent of its overall staff and close to 90 per cent of its India team.

5) BYJU'S

Indian edtech giant BYJU'S came under the scanner after it fired almost 2500 employees in the name of cost-cutting and at the same time named Lionel Messi as its brand ambassador paying the FIFA World Cup 2022 winning captain a hefty fee. The co-founder and CEO of the company attributed macroeconomic factors and the company's plans to become more profitable by the end of the current fiscal year as the key reasons behind the layoffs. The company is currently valued at $22 million.

Microsoft Layoff: How USA's economic turmoil is affecting Indians? Explained

Mass Layoffs 2023 five common factors

Going by the reasons given by the companies, the four common reasons for mass layoff are- Pandemic Boom, Over Hiring During the Pandemic, Fear Of Recession, Inflation

Pandemic Boom- During the COVID pandemic, there was an exponential increase in demand as people were in lockdown and they were spending a lot of time on the internet. The overall consumption saw an upsurge following which the companies went to increase their output to meet the market requirements.

Over-Hiring During the Pandemic- As countries around the world have lifted the lockdown, hiring started to become a burden for companies. Notably, in order to meet the demands, many tech companies went on a hiring spree anticipating the boom to continue even after the pandemic. However, as the curbs were eased and people started stepping out of their homes, consumption fell, resulting in heavy losses to these big tech companies. Some of these resources were hired at a higher cost because of the sudden upsurge in demand.

Recession- There are multiple studies have come which outlined that the world will witness a global recession. As the demand is coming back to pre-Covid levels and seeing the debt bubble almost about to burst and fearing recession, these companies are cutting down their costs by closing down low-performing projects and laying off the excess and high-cost resources they hired to accelerate growth. Business Insider suggests that CEOs predict a recession and economic uncertainty in 2023. In a survey by PwC of some 4,400 CEOs in about 100 countries in October and November, nearly three-quarters said they believed global economic growth would slow over the next 12 months. The consultancy characterized the stark prediction as the most pessimistic CEOs have been about economic forecasts since it began asking this question a dozen years ago.