Published On
Mika Singh Swayamvar Contestants: Who are the brides? Kapil Sharma heads to Udaipur for 'Mika Di Vohti'
The mystery behind Mika Singh Swayamvar contestants names have made his fans impatient as 'Mika Di Vohti' is all set to go on air Author :
Malkit Singh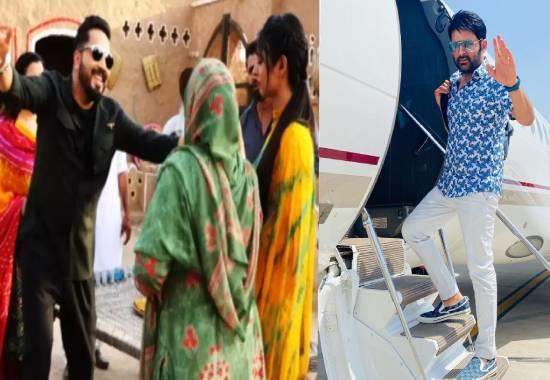 Well-renowned singer Mika Singh is all set to go on 'bride-hunt' as one of the most awaited shows 'Mika Di Vohti' is all set to go on air. Mika Singh Swayamwar has been talk of the town ever since the Singer has headed to Udaipur for the shooting of the reality show and possibly to find his wife. Named as 'Mika Di Vohti', singer Mika Singh will be playing the groom and will try to find his better half from a bunch of contestants. With 'Mika Di Vohti' doing rounds on social media, fans are eager to know about Mika Singh Swayamvar contestants' list. Moreover, fans cannot keep themselves calm and are eager to know Mika Singh Swayamvar contestants names and their profession.

As the preparation of 'Mika Di Vohti' is in full swing, Comedian Kapil Sharma on Saturday took to his Twitter handle went to Udaipur as the Singer's family member and add 'glitters to the gold'. Kapil Sharma also took a dig at his 'brother' Mika Singh saying that he might fear that the groom might change his mind and run away from his own Swayamvar.
"Going to attend my brother @MikaSingh paji's swayamvar in Jodhpur 🤩 kharcha bahut ho gya, ek hi baat ka dar hai, kahin dulha na mukar jaaye 😂 #mika #mikakaswayamvar (SIC)," wrote Kapil Sharma.
Mika Singh welcomes Kapil Sharma in Udaipur ahead of 'Mika Ka Swayamvar'
Mika Singh took to his Instagram and shared a video of Kapil Sharma arriving in Udaipur to join the Singer as his brother in the upcoming Mika Ka Swayamvar show. Kapil Sharma received a very warm welcome in Udaipir and various videos was shared by the Singer of him enjoying at the sets of Mika Di Vohti'.
Mika Singh Swayamwar Contestant List
Those who are eager to know to about Mika Singh Swayamwar Contestant List will have to wait more. The makers of Mika Ka Swayamwar are keeping the names of contestants hidden. As of now, the show is going to go on air soon on June 19, 2022, only on Star Bharat.It is pertinent to mention here that celebrities like Rakhi Sawant, Rahul Mahajan, and Ratan Rajpoot have already looked for their life partner through Swayamvar shows in the past. Notably, Bollywood ace singer Shaan is returning to host a reality show after a gap of 14 years as well.