Published On
Miss Universe Thailand Anna Sueangam-iam stuns the world in gown made of recycled can tabs as a tribute to parents
Her gown was inspired by the surrounding in which she has lived from childhood. Author :
Guneet kaur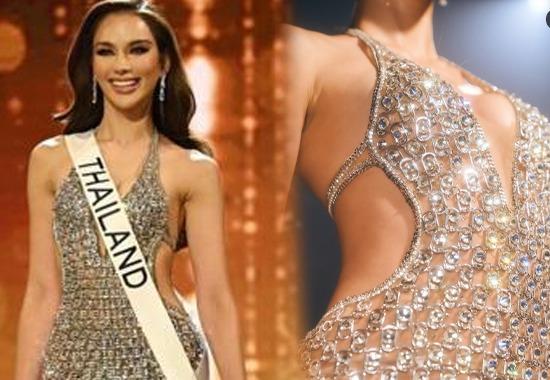 One of the most popular international beauty pageants, Miss Universe 2023 is all set to find its new face. The pageant has begun and winners from all across the world are working day & night to win that beautiful crown. This year a total of 84 beauty pageants would be competing during the 71st Miss Universe, set to take place on January 14 at the Ernest N. Moral Convention Center in New Orleans, Louisiana.
The Miss Universe 2023 on Thursday witnessed the Evening gown preliminary round in which Miss Universe Thailand Anna Sueangam-iam stunned everyone with her never seen dress. She donned a shimmering metallic silver chainmail gown designed by MANIRAT. Her dress astonished everyone as it was a recycled floor-length cutout evening gown made up of pull tabs of drinking cans interconnected to each other. All the tabs had Swarovski diamonds on them. She gave an edge to the outfit by wearing sparkling diamond drop earrings, ring and a thin bracelet. Her pale nude patent leather platform sandals with towering stiletto heels added grace to the whole evening gown.
Miss Universe Thailand Anna Sueangam-iam chose this unique gown for the evening to represent the background that she comes from. She wore the dress made of pull-up tabs as a tribute to her parents who are garbage collectors. The dress was called as 'Hidden Precious Diamond Dress.' Telling about her dress, she said, "You must not get stuck with murky surroundings you were born into, but do believe you have the power to change your own life for the better." She added that her gown was inspired by the surrounding in which she has lived from childhood. She said that growing up her life was among the piled of garbage and recyclable items. She in the end said, "This unique gown was tailored-made with discarded materials to present to the Universe that what's considered worthless by many actually possesses its own value and beauty."
This year, the pageant will be broadcasted on NBC as the show's official worldwide broadcaster. Earlier, FOX was the show's official broadcaster. Viewers in India can watch the grand event online at the JKN18 channel's official Facebook and YouTube channels, besides streaming it on VIACOM 18-owned OTT platform Vo