MIT Maths class interrupted with 'Free Palestine' chants by student; Bill Ackman reacts
A student of MIT during maths class started to chant 'Free Free Palestine' in the classroom when a teacher was teaching others.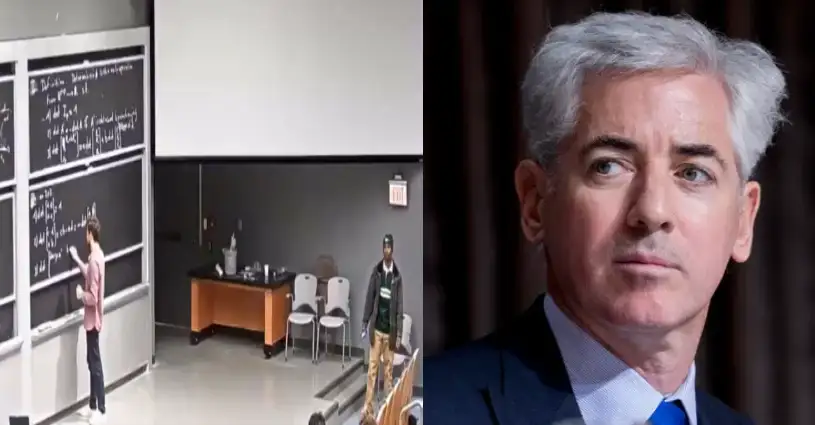 -

The fire of the Israel-Hamas war has started to reach top colleges and universities around the world. The prestigious Massachusetts Institute of Technology (MIT) recently witnessed a 'Pro Palestine' chant in the middle of an ongoing maths class. A student of MIT during maths class started to chant 'Free Free Palestine' in the classroom when a teacher was teaching others. Now, the MIT free Palestine video is doing rounds on social media and Billionaire Bill Ackman has slammed the educational institution's leadership.

In the viral MIT free Palestine video, a man can be seen teaching maths. A student can stand in the corner while others continue to study silently. Suddenly, the student standing in the corner started chanting free Palestine. Not only this, the man took out the Palestinian flag from his bag and started waving it.

Billionaire Bill Ackman shared the MIT Palestine video on his official X handle and slammed MIT's leadership. Sharing the video, Bill wrote, "This is a math class this morning at @MIT. This is the state of learning and 'free speech' at our top universities. It would not be happening without a failure leadership at MIT. Imagine being a student who borrowed $250k to attend MIT or a professor who is trying to do research in this environment."

However, a student reacted to it and asked, "this couldn't have happened this morning at MIT — we don't have class today. where did you find this video? it looks like a lecture recording"

Bill responded, "It was actually Wednesday am"
Who is Bill Ackman?
As per the information available, William Albert Ackman aka Bill Ackman, is an American billionaire hedge fund manager who is the founder and chief executive officer of Pershing Square Capital Management, a hedge fund management company.
His investment approach has made him an activist investor. As of June 2023, Ackman's net worth was estimated at $3.5 billion by Forbes.
Before MIT, Bill had slammed Harvard University. Bill Ackman, an alumnus of the same Ivy League College, took to his official X handle and called out the college administration. To be precise, a large number of Harvard student organizations blamed Israel solely for the Hamas terrorist attacks that killed 1400 civilians, including women and children.
After the joint statement went viral on social media, Bill Ackman wrote, "I have been asked by a number of CEOs if @harvard would release a list of the members of each of the Harvard organizations that have issued the letter assigning sole responsibility for Hamas' heinous acts to Israel, so as to insure that none of us inadvertently hire any of their members.
If, in fact, their members support the letter they have released, the names of the signatories should be made public so their views are publicly known.
One should not be able to hide behind a corporate shield when issuing statements supporting the actions of terrorists, who, we now learn, have beheaded babies, among other inconceivably despicable acts."