Published On
Moose Wala Murder: Afsana Khan takes a dig at Jenny Johal's 'Letter to CM' song; 'I am not..'
Afsana Khan came live on her official Instagram handle, a day after she was grilled by NIA Author :
Guneet kaur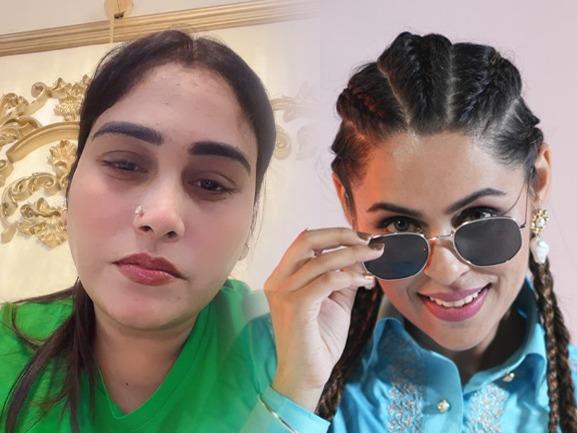 Punjabi Singer Afsana Khan came live on her official Instagram Handle after a lot of allegations were put up against her as the singer was summoned by National Investigation Agency. During the session spoke about her bond with Sidhu Moosewala and along with this, the singer was seen taking a dig at Jenny Johal who recently released a song seeking justice for Sidhu Moosewala.
Recently, singer Jenny Johal released a song named 'Letter to CM' in which she sought justice for Sidhu Moosewala Murder. The singer through her song said that it has been four months since Sidhu Moosewala was brutally killed, but till now the case has seen no progress. While talking about her relationship with Sidhu Moosewala, Afsana Khan said that she is not one of those singers who come out of the blue after 4 months and release a song seeking justice for the singer. Although she did not take any names, it seemed as a dig at Jenny Johal who was closely associated with the slain singer. Afsana Khan further added that according to her a person cannot express the loss it has suffered just by posting a picture or story of the deceased.
Later on, in her live session, she also made revelations about her questioning with National Investigation Agency. Talking about the same, she slammed all the reports linking her o various gangsters and Bambiha gang. It was further added by her that agency asked multiple questions to her about her relationship with the late Punjabi Singer Sidhu Moose Wala, about the future projects that are coming up, etc.
In the end of her live session, Afsana Khan made it clear to all that no questioning related to association with gangsters was carried out with her. She impressed upon the point that she has full faith on NIA that the agency will try its level best to find out the accused in Sidhu Moosewala Murder Case and will deliver justice to the singer, his family and loved ones.
It was on Tuesday that singer Afsana Khan was questioned for 5 hours by NIA in Sidhu Moosewala's murder row. Main involved gangster in Sidhu Moosewala Murder row, Lawrence Bishnoi and others have accused Afsana Khan of being in close association with Bambiha Gang. Post the statements submitted to NIA by Lawrence Bishnoi, Afsana Khan was summoned.