'Helicopter Shot meets Golf Shot': MS Dhoni takes on Donald Trump at National Golf Club Bedminster; Fans go gaga
After the golf match at the Trump National Golf Club Bedminster, MS Dhoni-Donald Trump's photo and video went viral on social media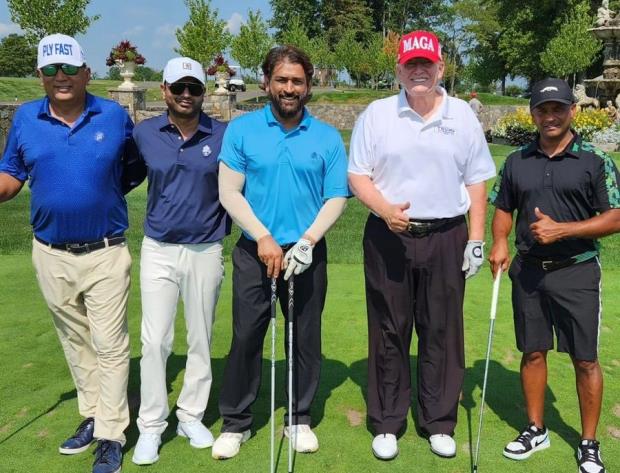 -

Former Team India cricketer and Chennai Super Kings skipper MS Dhoni took the internet by storm on Friday when his photo with former US President Donald Trump after a game of golf went viral. On Thursday, MS Dhoni was spotted at the Arthur Ashe Stadium during the US Open match between Carlos Alcaraz and Alexander Zverev. MSD was seen laughing his heart out during the 2023 US Open. MS Dhoni-Donald Trump's photo after the golf match at the Trump National Golf Club Bedminster went viral on social media. Notably, the former cricketer's friend shared MS Dhoni-Donald Trump's gold match photo on Instagram.

Hitesh Sanghvi took to his Instagram handle and wrote, "Golf with @mahi7781, @realdonaldtrump and @rajiv.knack.......thank you Mr. President for hosting us." For those who are unaware of Hitesh Sanghvi, he is an entrepreneur based in Dubai and is considered close to former Indian cricket team captain MS Dhoni. On Thursday, MS Dhoni and Sanghvi along with their mutual friend were also seen at the US Open.
Fans go gaga over MS Dhoni-Donald Trump golf match video
A user wrote, "Former US president Trump playing golf with Dhoni.Thala fever in USA."
Former US president Trump playing golf with Dhoni.
Thala fever in USA.#dhoni #thala pic.twitter.com/RdUNORQUdW

— RUDRA💫 (@invincibl39) September 8, 2023
Another user wrote, "This is what MS Dhoni means at the Global stage! Representing India at the highest level."
One more user wrote, "Donald Trump, the new member in MS Dhoni fan club.."
"Thala is sharing tips for next election to Trump," wrote another user.
Talking about Donald Trump,after Depp vs. Heard, it is now time for former US President Donald Trump to come under the scrutiny of people around the world after Judge Scott McAfee announced that his Fulton County trial will be televised and live-streamed. Notably, Judge Scott McAfee is presiding over the trials of Donald Trump and his 18 co-defendants in the Georgia election subversion case including former White House chief of staff Mark Meadows, and lawyer and mayor of New York City Rudy Giuliani.
Also Read: After Depp vs Heard, Donald Trump's trial in Fulton County to be televised & live streamed; here's how to watch
As per the court's order, all the hearings and trials of Donald Trump in the 2020 election interference case will be broadcast on the Fulton County Court YouTube channel
It is pertinent to mention here that there are multiple 'first-ever' developments taking place in Donald Trump's case. For instance, he became the first former US President to be arrested, also a few days back, Trump's surrender in Atlanta, Georgia also brought the first-ever mugshot of the current or former US president. Donald Trump's mugshot had went viral on social media. Notably, Federal and New York courts where Trump's other indictment took place did not allow the cellphones or the cameras. However, Georgia law, exceptionally, permits the use of cameras during judicial proceedings with a judge's approval inside the courtroom.