Nabha Girl appointed as Sub-Inspector in Punjab Police 'without bribe'; Family's celebration video goes viral
AAP Punjab proudly took to their official social media platform to share the inspiring story of Kirpal Kour, a young woman from Nabha.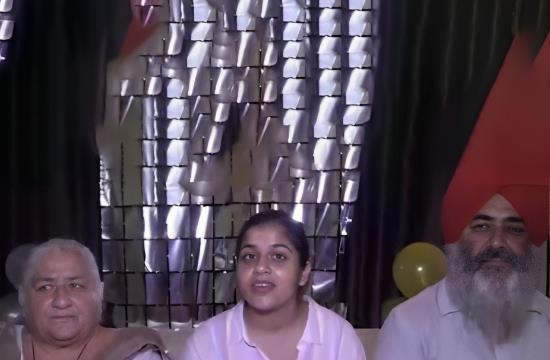 -

This video shines a spotlight on the remarkable journey of Kirpal Kaur, a young woman hailing from the town of Nabha. Kirpal Kour who appointed as a sub-inspector in the Punjab Police purely based on merit, devoid of any "recommendations" or "bribes."

In the video, AAP Punjab conveyed the essence of the achievement, stating, "A humble village girl secures a job without any influence or unethical payments. Her family and the entire village share in her joy."
ਸਧਾਰਨ ਪਿੰਡ ਦੀ ਕੁੜੀ ਨੂੰ ਬਿਨਾਂ ਕਿਸੇ ਪੈਸੇ ਜਾਂ ਰਿਸ਼ਵਤ ਦੇ ਮਿਲੀ ਸਰਕਾਰੀ ਨੌਕਰੀ!

ਪਰਿਵਾਰ ਤੇ ਪਿੰਡ ਵਾਲੇ ਹੋਏ ਬਾਗੋ-ਬਾਗ਼। pic.twitter.com/oCNlXd0T5v

— AAP Punjab (@AAPPunjab) September 12, 2023
Furthermore, the heartwarming video also captured Kirpal Kaur joyously celebrating her accomplishment alongside her delighted family and fellow villagers.
Also Read: Is Nipah Virus as dangerous as COVID-19? Truth behind the deadly virus that claimed 2 lives in Kerala
However, Kaur expressed her gratitude to CM Bhagwant Mann and its governance for their transparent recruitment process, which allowed individuals like her to pursue a brighter future and serve with integrity.
She further emphasized her commitment to performing her duties with honesty, underscoring that her job, obtained through ethical means, would be executed with the same integrity that earned her the opportunity.
Meanwhile, this inspiring tale serves as a testament to the potential for honest, hardworking individuals to excel in their careers and contribute positively to society.