Published On
Nation joins hands: 20 heartfelt birthday wishes for PM Narendra Modi on his 73rd anniversary
Embracing a visionary: India's unified voice of gratitude and adoration" Author :
Rakesh Behal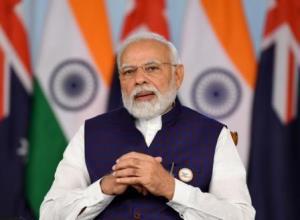 NEW DELHI: As the dawn broke today, the entirety of India paused to convey its affection and reverence for Prime Minister Narendra Modi on his 73rd birthday. The monumental leader has received countless well-wishes from every nook and cranny of the nation. Here, we've handpicked 20 poignant birthday messages that echo the country's collective sentiment:
1. "Wishing a visionary leader a day filled with joy and a year ahead that mirrors his aspirations for India."
2. "Happy Birthday to the architect of a new India. May your endeavors continue to flourish."
3. "To a relentless force driving India forward, best wishes on your special day!"
4. "Celebrating the birth of a leader who's redefined governance in India. Warm wishes!"
5. "May you continue to inspire millions with your dedication and vision. Happy Birthday!"
6. "On this special day, here's to the spirit that's guiding India to new heights!"
7. "Wishing our esteemed PM a day filled with love, respect, and boundless energy for the journey ahead."
8. "Happy Birthday! Your leadership has been a beacon, lighting up a path of progress for India."
9. "Here's to another year of unwavering commitment to the nation's growth. Best wishes!"
10. "May the years ahead be filled with more milestones, achievements, and a vision realized for our great nation."
11. "Happy Birthday to the heartbeat of a billion aspirations!"
12. "Warm wishes to the leader who's transformed dreams into tangible realities for many."
13. "Here's to celebrating the spirit and determination of a great leader. Happy 73rd!"
14. "Your journey is an inspiration for every Indian dreaming big. Best wishes on your birthday!"
15. "Wishing you good health, happiness, and many more years of dedicated service to the nation."
16. "Your dedication and hard work have steered India towards a bright future. Happy Birthday!"
17. "To the guiding star of India's development journey, best wishes on your special day!"
18. "Your leadership is the compass directing India's progress. Warm birthday wishes!"
19. "Here's to celebrating the man whose vision is scripting India's success story."
20. "Wishing you all the strength to continue your mission of a progressive and inclusive India."
These messages capture just a fraction of the admiration and respect PM Modi commands. As the day unfolds, India anticipates a future under his continued visionary guidance.