Published On
Netherlands: Passenger train crashes into bus at level crossing; video
In the video, it can be seen how the train divides the bus into two pieces Author :
Samriti Bharadwaj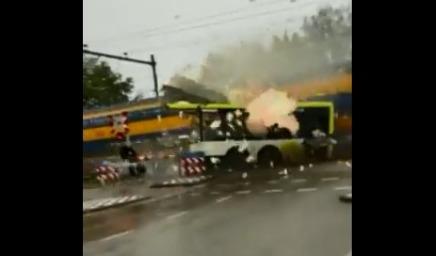 Video footage has surfaced on the internet showing an NS-operated train crashing into a broken-down bus at the railway crossing. In the video, it can be seen how the train divides the bus into two pieces. At the time of the incident, there was no passenger on the bus. Within seconds of making contact with the train, the bus was seen to have split in half.
So this just happened this morning in the Netherlands. fortunately, the bus that was broken down was empty and nobody was injured. pic.twitter.com/P7g48KfH9k

— 🥀_Imposter_🕸️ (@Imposter_Edits) October 17, 2022
The accident took place at 10 a.m. (9 a.m. BST) on Monday near Bergen op Zoom, 30 kilometers north of Antwerp, the Netherlands. At the time of the collision, there were no passengers on the bus. According to local police, the driver was examined by emergency personnel but he was alright.
Bergen op Zoom police tweeted: "This morning at 09.50 am a regular bus collided with the train going in the direction of Zeeland. There were no passengers on the bus. The bus driver was not injured. No injuries were reported on the train."
An investigation has now been started by police and safety experts to determine why the bus was on the crossing when the barriers were pulled down.
There were between 60 and 70 passengers aboard the train at the time of the accident, according to the train's operator, but no one was hurt. According to NS Director of Operations Eeclo Van Asch, both the train and bus drivers are in shock.
People present at the scene are sharing videos of the incident, suggesting the bus could have run out of fuel before reaching the nearby depot.