Published On
Netizens trolls Mann and Kejriwal for demanding ₹50,000 Crores package, says, "Let's promise freebies.."
Punjab Chief Minister Bhagwant Mann requested a ₹50,000 crores package per year for 2 years from the PM on Thursday.
Author :
Priyanka Vinayak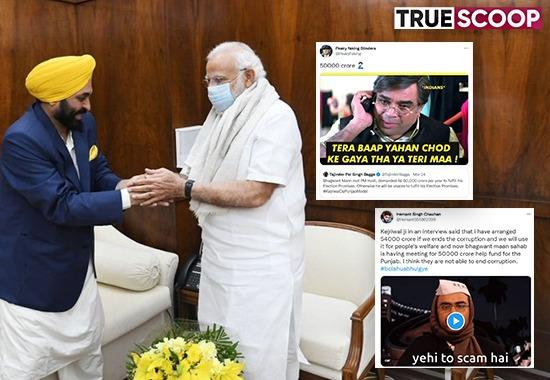 Punjab Chief Minister
Bhagwant Mann
met Prime Minister Narendra Modi on Thursday. This was the first formal meeting of Bhagwant Mann with PM Modi after assuming office.
In his meeting, Bhagwant Mann discussed the financial condition of Punjab. He said that Punjab has a debt of 3 lakh crores. He requested a ₹50,000 crores package per year for 2 years from the PM. Netizens trolled Mann and Kejriwal badly for making such demand from the Central government.
Taking to Twitter a user wrote, "Before Election: Let's promise freebies. Free Electricity, Free Water, Free bus ride for Ladies, Free Free Free After Election: Modiji paisa de dijiye, wo bhi Rs. 50000 crore per year for 2 year."
Another user shared, "Kejriwal is such a big liar almost all liars of the world are his students, before elections we will remove 20% corruption and get 34000 crore and 20000 crore from sand and now haay haay modiya bheekh dede oye 50000 crore di oye..."
One more user commented, "The way he is demanding rs 50000 crore per yer feels like asking papa for monthly pocket money"
"Kejriwal ji in an interview said that i have arranged 54000 crore if we ends the corruption and we will use it for people's welfare and now bhagwant maan sahab is having meeting for 50000 crore help fund for the Punjab. I think they are not able to end corruption," shared another user.
Bhagwant Mann on Thursday said that if we get a special package for at least 2 years, by then we will manage our financial situation. Punjab will stand on its own feet. Mann said that I hope that the Prime Minister will cooperate with us by talking to the Finance Minister of the country.