Published On
Never ending queue: Weekend crowds cause a 3-hour wait at IKEA Bengaluru
People had to wait in line for approximately three hours at Ikea Bengaluru, making it difficult for security to handle the crowd. Author :
Ms Chaithra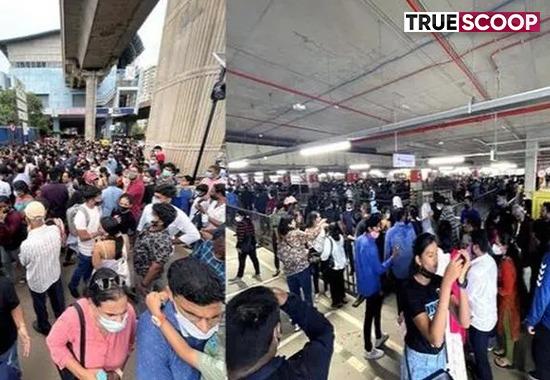 Customers from the city rush to the outlet every time an IKEA shop opens in the country, resulting in exceptionally large lineups that linger for hours before anyone can access the store.
A new IKEA store opened in Nagasandra, Bengaluru, and the situation was the same. People standing in line for more than three hours made headlines, and Twitter was clearly amused.
IKEA, the Swedish-founded, Dutch-headquartered international business, had a busy weekend in Bengaluru. This was also the first weekend since the company, which sells and designs ready-to-assemble furniture, launched its first public store in Karnataka's capital. This is only the fourth store in India; the others are in Hyderabad, Navi Mumbai, and Worli.
In Bengaluru, the waiting time was estimated to be two to three hours, based on images of large lines outside the store.
"Bengaluru, we are overwhelmed by your response. The current wait time at the Nagasandra store is 3 hours. Please plan accordingly or shop online", Ikea India wrote on its official handle.
Video and photos of individuals queuing outside the Ikea store have flooded Twitter, sparking a funny meme frenzy.
"It's not MLAs queuing in Maharashtra to form a government, it's not an immigration queue to enter our country, it's not a vaccine queue to avert Covid outbreak, it's not pilgrims queuing in Tirupati for darshan, it's the inauguration of an IKEA store in Bangalore!" said industrialist Harsh Goenka.
On June 22, Karnataka Chief Minister Basavaraj Bommai opened the IKEA store. The Nagasandra store is the Swedish furniture company's third and largest in India. The other two locations are in Hyderabad and Navi Mumbai.