Published On
Never Have I Ever Season 4 OTT Release Date, Where to Watch, and What to Expect
Mindy Kaling's comedy-drama Never Have I Ever Finale Season starring Maitreyi Ramakrishnan is all set to hit the streaming platform. Author :
Guneet kaur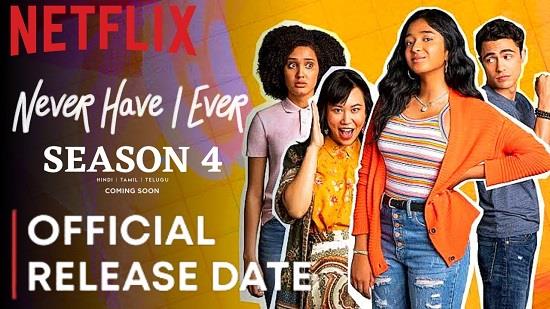 The beloved comedy-drama series "Never Have I Ever," created by Mindy Kaling, is preparing to grace our screens once more with its highly anticipated fourth season. Fans of the show can finally rejoice as they delve back into the tragically comic life of Devi Vishwakumar.
Following the immense success of the first three seasons, "Never Have I Ever" has captured the hearts of audiences worldwide with its witty writing and relatable characters. The series follows the life of Devi Vishwakumar, portrayed by the talented Maitreyi Ramakrishnan, as she navigates the complexities of adolescence, family dynamics, and high school drama.
However, this fourth season will bring both excitement and bittersweet emotions, as it has been announced that it will be the final season of the show. While fans may feel a tinge of sadness knowing that their journey with Devi will soon come to an end, they can also look forward to a satisfying conclusion to her story.
Never Have I Ever S4 OTT Release Date
Netflix's Scoop True Story: What happened to Jigna Vora & Where is she now?
Get ready for the highly anticipated premiere of "Never Have I Ever" Season 4, one of the most anticipated shows of the year. Set your calendar for June 8, 2023, as Netflix brings you the next chapter of this beloved series.
In this new season, viewers will join Devi Vishwakumar as she embarks on her senior year, a pivotal moment in her life. As Devi navigates the challenges of her final year of high school, she will also face the complexities of her relationships, seeking clarity and understanding along the way.