Published On
New York clears homeless encampments ahead of UNGA
City officials move pavement dwellers from the vicinity of the UN headquarters in annual sweep. Author :
Rakesh Behal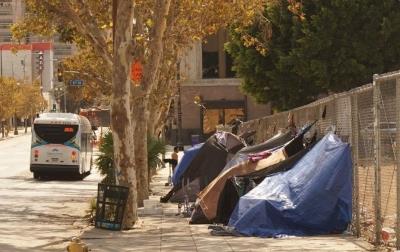 NEW YORK — With the imminent commencement of the United Nations General Assembly (UNGA) session, New York City officials have undertaken their annual task of removing the homeless from areas surrounding the UN headquarters on First and Second Avenues. This effort aims to present a cleaner image of the city to visiting dignitaries and to enhance security measures.
A Persistent Issue in the Spotlight
Every year, in the lead-up to the UNGA, dozens of homeless individuals, often residing under makeshift shelters like tarps and cardboard boxes, are cleared from the vicinity of the UN. This yearly exercise underscores the city's ongoing struggle with housing crises, mental health challenges, and the strain on social services.
Security Takes Precedence
In preparation for the arrival of approximately 150 world leaders, many streets adjacent to their hotels will be cordoned off. While security is a prime concern, there's also an intention to shield these VVIPs from the glaring issue of homelessness in this global finance and media hub. During the UNGA, an area spanning roughly 40 hectares, including the UN, undergoes a near-total lockdown. This security protocol requires multiple checkpoints, manned by an array of security agencies, from UN personnel to federal agents.
A History of High-Alert Measures
These intensified security measures have their roots in a 1964 incident when anti-communist Cubans launched a bazooka at the UN during Che Guevera's speech. Though the attack was unsuccessful, it led to heightened riverine security, with police and Coast Guard boats patrolling the East river during UNGA sessions.
Promises Unfulfilled
Despite the city's claim of offering housing to those displaced during these sweeps, a recent audit by City Comptroller Brad Landler reveals a grim picture. Of those displaced, only three received the promised housing. Landler stated to the National Public Radio, "99.9 per cent of the folks that were forcibly removed in those sweeps are still homeless."
In 2022 alone, the city demolished over 1,500 such encampments, often with police presence. These settlements, often termed "encampments," represent a stark reality: they are homes to the city's most vulnerable, erected in public spaces, under bridges, or vacant lands.
As the world's leaders convene at the UNGA, the city's dual challenges of homelessness and security are once again under the global spotlight.
Source IANS