Published On
'Next time I expect this performance': Masaba Gupta teases mom Neena Gupta with vintage pressure cooker ad
Sach Kahun Toh: An Autobiography,' launched by Neena Gupta, has been making headlines for its shocking revelations.
Author :
Sheetal J Bhalla
Masaba Gupta, a designer-turned-actor, tweeted a vintage video of her mother, famous actress Neena Gupta, on Saturday. Neena is shown in the video advertising a pressure cooker and performing with colorful expressions while lip-syncing to a jingle. Her hair is done in a bun and she is dressed in a saree with a matching blouse and bindi. See Video here.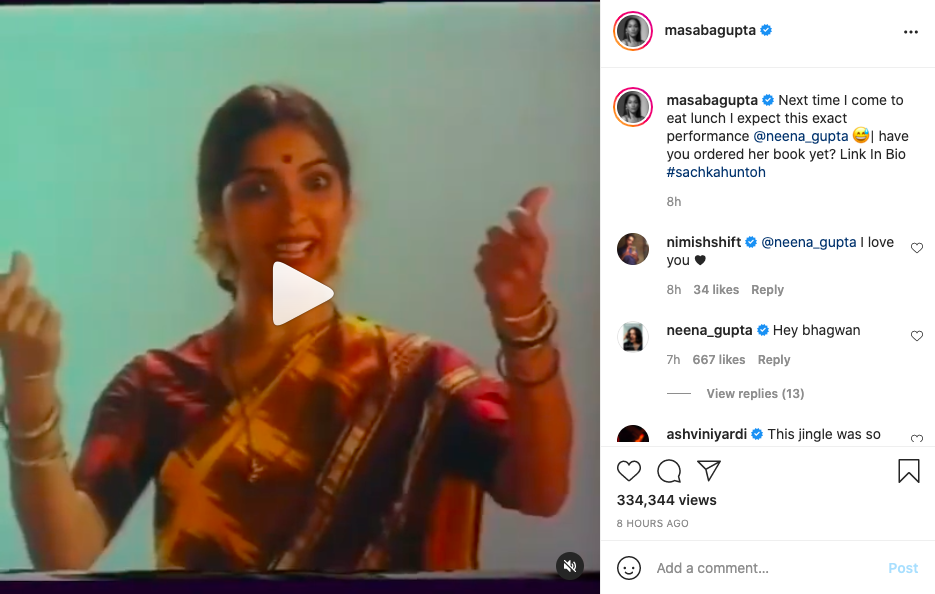 Masaba Gupta captioned the video when she shared it on social media: "Next time I come to eat lunch I expect this exact performance @neena_gupta | have you ordered her book yet? Link In Bio #sachkahuntoh." Reacting to her post, Neena Gupta wrote, "Hey Bhagwan (Oh God)."

Producer Ashvini Yardi wrote, "This jingle was so addictive… I use to sing this all the time #iconicads.

Also Read: 'I feel orphaned and devastated': Shekhar Suman's Mother Passes Away, actor mourns the death of his mother
For those who are unversed, Neena recently released 'Sach Kahun Toh: An Autobiography,' which has been making news due to its eye-opening revelations. The book goes into great detail about Neena's life, including her struggles in Bollywood and as a single parent.

"I would start and question, 'What is there to write about my life?'" Neena remarked during an Instagram video chat with actor Kareena Kapoor Khan, who launched the book. 'What makes you think people would want to read it?' After that, there was a lockdown... And after much thought on my life, I decided to resume writing.

She went on to say, "Everything is out of my system. Things I'd been keeping hidden for a long time. That's fantastic news. I think it'll be worth it if, after reading the book, even one person doesn't make the same mistake I did, they feel 'yes, we shouldn't do this.''