Nijjar told Trudeau he was innocent in a 2016 letter: Report
Slain Khalistan hardliner Hardeep Singh Nijjar, in a letter addressed to Canadian Prime Minister Justin Trudeau in 2016, denied Indian government's allegations that he was a terrorist, a media report said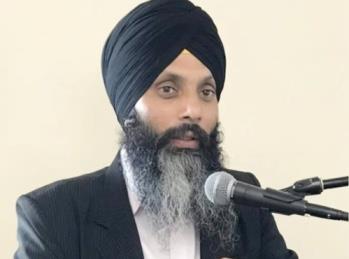 -

Slain Khalistan hardliner Hardeep Singh Nijjar, in a letter addressed to Canadian Prime Minister Justin Trudeau in 2016, denied Indian government's allegations that he was a terrorist, a media report said.

The head of the Guru Nanak Sikh Gurdwara in Surrey, who was shot dead in June this year, had urged Trudeau to intervene on his behalf after the Interpol issued a Red Corner Notice against him in 2016 on India's request.

"I urge your administration to dispel the Indian government's fabricated, baseless, fictitious and politically-motivated allegations against me," Nijjar said, adding that India had "blatantly abused its governmental authority," the National Post newspaper reported.

Nijjar was accused in a number of cases in India, including murder, terrorist activities and sedition, and his alleged role in killing six people in a blast at a cinema in Ludhiana in 2007.

As the chief of the proscribed Khalistan Terror Force, he was accused of running terror training camps in the British Columbia province, and the Interpol had issued a Red Corner Notice against him in 2016 on India's request.

The CBI had also issued a warrant against Nijjar in 2014 on charges of attempting to cause an explosion, making or keeping explosives with an intent to endanger life or property, and making or possessing explosives under suspicious circumstances.

Nijjar told the PM that he and his family had been targeted by India because of his support for Khalistan, a separatist movement seeking to create an independent homeland for Sikhs. The letter said Nijjar "never believed in, supported or been involved in any violent activity", the joint news report by the Post and Vancouver Sun said.

"Because of my campaign for Sikh rights, it's my belief that I have become a target of an Indian government campaign to label my human rights campaign as terrorist activities," the letter said.

In the letter, he also stated that the "campaign to label me as a terrorist started when I actively participated in a campaign to collect signatures on a complaint to the UN's Human Rights Council for investigation and and recognition of 1984 of anti-Sikh violence as Genocide".

Nijjar's death has triggered a diplomatic row between Ottawa and New Delhi, with Canada saying it suspects India's involvement in the killing and India calling the allegations "absurd". According to fresh findings by the Indian Intelligence agencies, Nijjar went to Pakistan in April 2012 for 15 days to gain "expertise" in arms and ammunition. Nijjar was initially associated with the outlawed separatist group, Babbar Khalsa International (BKI), according to the National Investigation Agency.

India has listed it as a terrorist organisation, saying that it is funded by Pakistan's Inter-Services Intelligence. India officially declared Nijjar a designated terrorist in 2020, saying he was involved in "exhorting seditionary and insurrectionary imputations" and "attempting to create disharmony among different communities" in the country.

On a number of occasions he held Khalistani referendums, and the last one was on September 10.

In 2018, then Punjab Chief Minister had given a list of wanted persons, including the name of Nijjar to the Canadian government. Later, in 2022, Nijjar's extradition was sought by the Punjab Police.