'Go Fu*k off': KL Rahul's unseen video snapping at pitch invader Jarvo goes viral
KL Rahul on Monday broke the internet after his video with the infamous pitch invader Jarvo 69 during India vs Australia World Cup 2023 match went viral.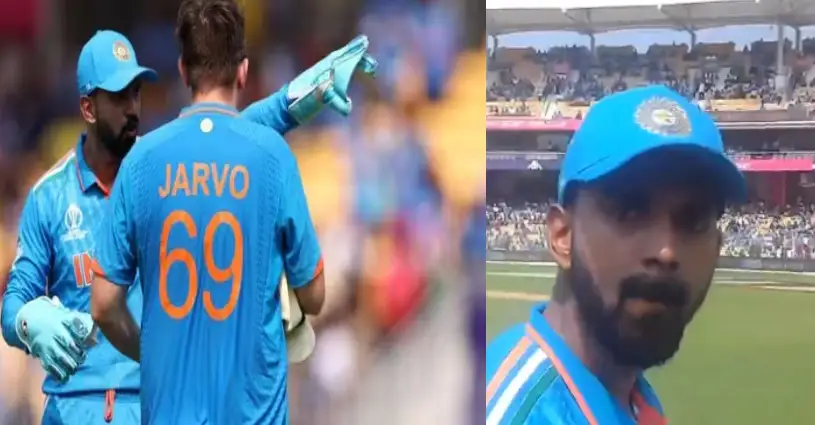 -

While Team India has almost finished at the top of the table in the league stages of the ICC Cricket World Cup 2023, KL Rahul on Monday broke the internet after his video with Jarvo 69 went viral. Jarvo 69 is a British pitch invader who forcefully entered the cricket stadium during the India vs Australia World Cup 2023 opener match. While Jarvo was escorted by the security, he was indeed confronted by Team India players including Mohammed Siraj, KL Rahul, and ultimately Virat Kohli. Now, KL Rahul's video with Jarvo 69 is going viral and India's cool-headed wicket-keeper was seen snapping at the infamous pitch invader.

In KL Rahul Jarvo 69 video, Team India's vice-captain can be seen coming angrily towards the pitch invader. Going by the video, Jarvo was recording whatever was happening in front of him during the moment. KL Rahul comes to Jarvo 69 and angrily says, "It's not for you, that place is for you (pointing towards the crowd) Go F**k off, stop coming everywhere."

It is pertinent to mention here that Virat Kohli had also confronted him and said, "Bro! I love your videos but this has got to stop now."

For those who are unaware, Daniel Jarvis, also known as Jarvo 69, is a notorious prankster who has gained fame for his audacious invasions of cricket pitches during live matches. His antics have been broadcast to millions of viewers worldwide, causing both amusement and concern about the security measures at these events.

As a security concern, the ICC has banned serial pitch invader Daniel Jarvis aka Jarvo 69 from attending World Cup 2023 in the stadium. An ICC spokesperson was quoted saying, "The individual concerned has been banned from attending any further games at the event and the matter is in the hands of the Indian authorities."
Watch KL Rahul Jarvo 69 Video