Happy Father's Day 2023: Hollywood actors who embraced parenthood later-in-life
Robert De Niro welcomed his seventh child at the age of 79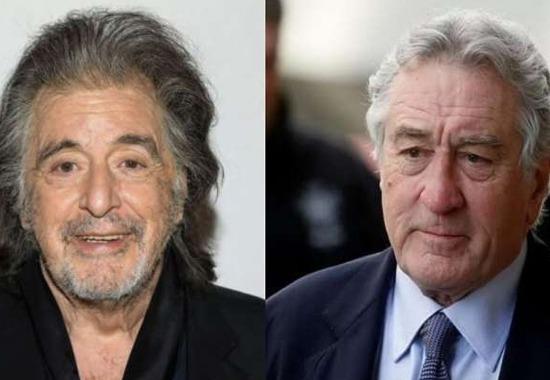 -

Just recently, two Hollywood stars made news with their late age paternity. They caught the public imagination because Robert De Niro welcomed his seventh child at the age of 79. There are no details yet of whether this was a natural conception, involved assisted reproductive therapies or freezing sperms. Still the news has raised questions about embracing fatherhood later in life, the risks involved, the health of the baby and the quality of family life.

The duo has joined the list of celebrities including musicians like Mick Jagger and Billy Joel, that have gone on to embrace fatherhood later in life:

Here is the list of few stars and celebrities who became parents in their later age and embraced their moment beautifully.

1.Al Pacino: The 'Scent of a Woman' star is expecting his fourth kid with his 29-year-old lover, Noor Alfallah, at the age of 83. The duo is said to have been dating since the COVID-19 epidemic.

Pacino's other children are Julie with Jan Tarrant and twins Olivia and Anton with Beverly D'Angelo.

2. Robert De Niro: Welcoming Seventh Child at 79 with Girlfriend Tiffany Chen,

Other children of De Niro include: Drena and Raphael from his first marriage to Diahnne Abbott.

Julian and Aaron, twins, with his ex-girlfriend Toukie Smith.

Elliot, Helen Grace from his ex-wife Grace Hightower.

3. Charlie Chaplin: The legend comedian Charlie Chaplin became a father at the age of 73 with the birth of his youngest son, Christopher, to his wife Oona O'Neill in 1962. Geraldine, Michael, Josephine, Victoria, Eugene, Jane, and Annette were the couple's other seven children.

4. Hugh Hefner: In his late 60s, the creator of Playboy magazine became a parent. His youngest boys, Marston and Cooper, were born to his second wife, Kimberley Conrad, in 1990 and 1991, respectively. Hefner and Conrad married in 1989, when he was 63 years old and she was 26 years old. They divorced in 1998 but were still legally married until 2010. Hugh and Mildred Williams had two earlier children, Christie in 1952 and David in 1955.

5. Mick Jagger: At the age of 73, the charismatic leader of The Rolling Stones became a father for the eighth time. Deveraux Octavian Basil, his youngest kid, was born in 2016 to his girlfriend, dancer Melanie Hamrick. Jagger and Hamrick have been together since 2014, despite their 44-year age difference.

6.Rod Stewart: The Scottish singer-songwriter, now 78, welcomed his seventh child, Aidan Patrick Stewart, when he was 66 with his wife, Penny Lancaster Stewart.

7. Eva Longoria: Desperate Housewives actress Longoria gave birth to her only child, a son called Santiago Enrique, when she was 43.

Netflix TUDUM streaming: When & where to watch OTT giant's Brazil event?

8. Janet Jackson: The singer-songwriter gave birth to her only child, Moses, in January 2017 when she was 50, after marrying Qatari businessman Wissam Al Mana in 2012.

9. Cameron Diaz: The Mask actress gave birth to her first and only child with musician Benji Madden at the age of 47, a daughter named Raddix.

10. Laura Linney: The Ozark star was 49 years old when she gave birth to her only child, a son called Bennett, in January 2014. "I'm certainly not an advocate for having children later, but for me, it's been wonderful and I'm deeply grateful," she told The Guardian.

11. Geena Davis: The Thelma and Louise star became a mother for the second time when she was 46, giving birth to twin sons, Kian William and Kaiis Steven, brothers to her daughter Alizeh Keshvar.

12. Halle Berry: The Oscar winner gave birth to her son Maceo Robert Martinez in October 2013 when she was 47. She welcomed her first child, daughter Nahla, at the age of 41.

13. Clint Eastwood: The 92-year-old actor and director had his eighth child, daughter Morgan, with his second wife Dina Ruiz in 1996. His eldest child, daughter Laurie, was born in 1954.

14. Susan Sarandon: The Bull Durham actress was 45 when she gave birth to her son Miles Guthrie, after welcoming daughter Eva Amurri at 39 and son Jack Henry at 42.

15. Rachel Weisz: British actress Weisz welcomed her second child, a daughter whose name has not been made public, in September 2018, when she was 48.

Although many older parents have successfully borne children and enjoyed fulfilling relationships with them, it is important to carefully consider all aspects to make an informed decision that is in the best interest of both the parent and child. It is helpful to take advice from a medical professional or fertility specialist, in addition to discussion with a therapist, family and friends for additional guidance and support during this decision-making process. All aspects like financial conditions, physical health, medical state etc. must be kept in mind before experiencing late parenthood and upbringing of the child.