Published On
Pathankot police achieves breakthrough in 2010 robbery case, apprehends key accused
Pathankot police cracks down on notorious topi gang: accused apprehended after long pursuit Author :
Rakesh Behal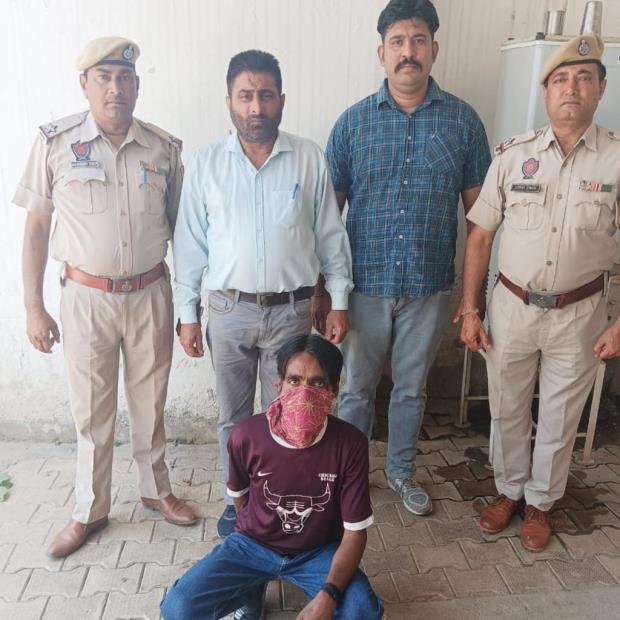 The Pathankot Police has made a significant breakthrough by apprehending the final fugitive in the 2010 Pathankot-Narot Jaimal Singh Bamial robbery case. This arrest brings closure to a long-standing case and demonstrates the police's commitment to ensuring justice for the victim and the community.
The arrested accused has been identified as Surjit Kumar son of Kartar Chand resident of Amritsar, Punjab.
Providing additional information to the press media, Senior Superintendent of Police (SSP) Harkamal Preet Singh Khakh said that in 2010, an incident of robbery was reported at Narot Jaimal Singh police station. During the incident, a vehicle owned by the victim, Sunil Kumar, was intercepted by four individuals who proceeded to steal Rs. 1,97,500, a mobile phone, and the vehicle itself. In response to this report, the Pathankot Police promptly established a dedicated team to thoroughly investigate the crime and ensure that the perpetrators are held accountable in accordance with the law.
In December 2010, the diligent endeavours of the police team yielded a momentous advancement, as they successfully apprehended one of the primary suspects, Randeep Kumar, also known as Topi, during a confrontation at Sunny Enclave Kharar. Further arrests ensued, and valuable information provided by the detained individuals led to the identification and subsequent apprehension of Surjit Kumar, a key person of interest.
Nevertheless, Surjit Kumar managed to elude the judicial system and was officially declared a proclaimed offender (PO) in 2022. The unwavering commitment of the Proclaimed Offenders(PO) Staff within the Pathankot Police ultimately culminated in the capture of Surjit Kumar on May 22, 2023.
The arrested accused will be brought before the court, where subsequent investigations will be conducted.
SSP Khakh expressed appreciation for the dedication of the Pathankot Police Force in upholding justice for the victim and delivering a strong message to all wrongdoers that they will face consequences for their actions.
The Pathankot Police reaffirms its commitment to maintaining peace and security in the region and will continue to strive for justice, protecting the rights and well-being of its citizens.