Published On
Pathankot police busts major drug smuggling chain from jammu and kashmir to punjab
Cracking down on drug trafficking, pathankot police seizes 100 kg of poppy husk, arrests drug peddler and seizes one truck Author :
Rakesh Behal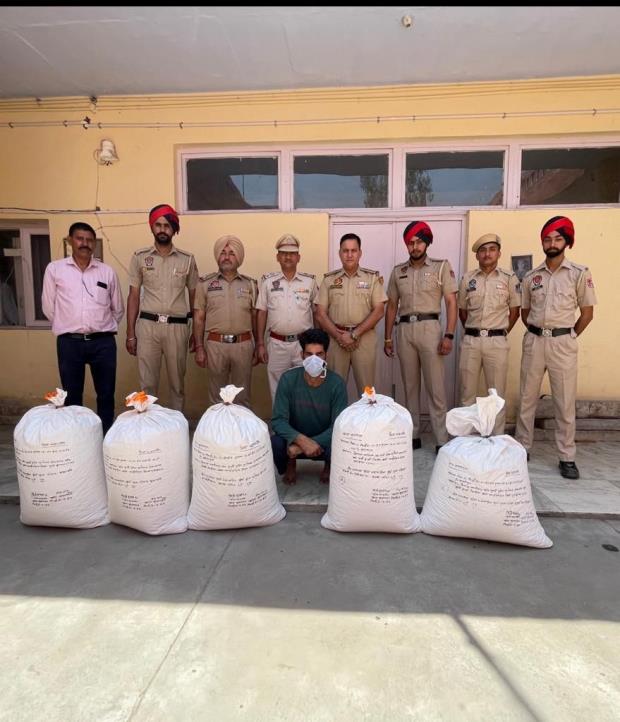 In a stunning victory against the perils presented by drug trafficking, Pathankot Police have accomplished a remarkable feat by foiling a significant operation involving the illicit transportation of poppy husk from Jammu and Kashmir to Punjab and confiscated 100 kilograms of poppy husk, apprehended one drug smuggler, and impounded a truck engaged in the illegal transportation of this narcotic substance.
This represents the second major confiscation of poppy husk by the Pathankot Police this month, following their successful interception of 207 kilograms of poppy husk en route from Jammu and Kashmir to Punjab.
The apprehended individual has been recognised as Riyaz Ahmed Sher Guri, son of Mahomad Ramjan Sher Guri, hailing from Midora, Awantipura, Pulwama, Jammu & Kashmir, India, and has been placed under arrest. The prompt intervention by the Pathankot Police successfully thwarted the distribution of a significant amount of illegal substances in the streets of Punjab.
During a press conference, Senior Superintendent of Police Pathankot, Harkamal Preet Singh Khakh, eloquently said that a series of specialised police units, headed by officers of esteemed ranks, have been established across all subdivisions of the district with the purpose of combating the pervasive issue of drug abuse. As part of this concerted effort, a team of police officers led by the diligent Station House Officer Sujanpur Anil Powar, under the careful guidance of Deputy Superintendent of Police Dhar Kalan Rajinder Minhas, successfully set up a dedicated checkpoint at Naka Madhopur. This strategic location enables the meticulous screening of all vehicles traversing between the regions of Jammu and Kashmir and Punjab.
During the inspection, a truck coming from Jammu and Kashmir to Punjab aroused suspicion, prompting the police to conduct a thorough search. The search uncovered five plastic bags, each weighing an astounding 20 kilograms, concealed in the truck, containing a total of 100 kilograms of poppy husk.
Further investigation revealed that the truck driver, Riyaz Ahmad Sir Guri, was transporting the poppy husk with the intention of profiting from its sale in Punjab, flagrantly violating the provisions of the 15-61-85 NDPS Act. Pathankot Police has subsequently registered a case against Riyaz Ahmad Sir Guri, at police station Sujanpur Pathankot and the truck involved has been impounded.
This significant seizure exemplifies the relentless efforts of our officers, effectively eliminating a substantial quantity of drugs from circulation and delivering a severe blow to the illicit drug trade.
The arrested accused will be presented before the court, where his remand will be sought to facilitate the identification and apprehension of the entire network associated with this nefarious activity.
Pathankot Police urges the public to remain vigilant and promptly report any suspicious activities to the authorities. The department remains steadfast in its mission to build a drug-free society and calls for the support and cooperation of the community to achieve this noble objective.