Published On
Pathankot: 'Pregnant' woman denied entry into ward, gives birth in hospital's corridor; Watch
The senior medical officer Dr. Sunil denied all the allegations and has said that the victim's husband refused to get her admitted Author :
Guneet kaur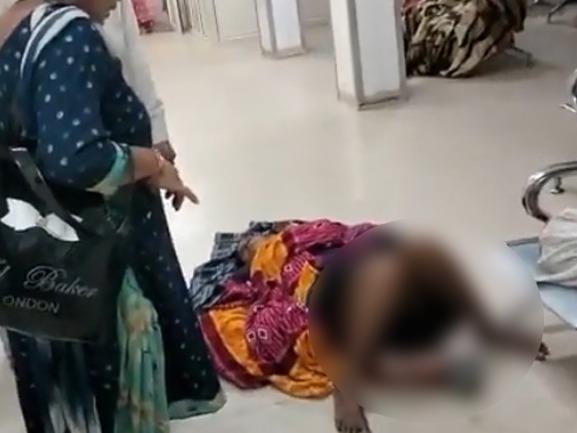 A humanity shaming incident has come to the fore in the state of Punjab. The state which talks proudly about its best healthcare system has seen an incident in the Civil Hospital of Pathankot that is heart-wrenching.
The incident surging up is from the Pathankot district of Punjab where a woman was forced to give birth to her child in the corridor of the hospital because of the callous behavior of the staff present there. Reportedly, the incident is of Tuesday night when a woman came to Civil Hospital to get her delivery done but was referred to Amritsar without conducting any medical checkup. As the woman was in severe condition, her husband kept pleading with the hospital staff to take a look at her, but they seemed to have turned deaf ears to the woman crying in absolute pain.
After almost 2 hours of going through the traumatizing condition, the woman gave birth to the child in the corridor of the hospital. The patients passing by made the video of the lay to point out the harsh reality of the Civil Hospital which is meant for people in need. The video of the same incident has been doing rounds on all social media platforms.
The lady's husband revealed that the hospital staff behaved rudely with them and asked him to take his wife to Amritsar. No one paid any heed to the poor man's cry for his wife. The victim has given birth to a baby girl and it is the third child of the couple. The husband of the victim has demanded strict action against the management of the hospital and their behavior. It is also alleged that the staff threatened the couple to call the police if they don't leave the hospital.
After the incident came to the light and people started raising questions about the management and asked for action by the government, the senior medical officer Dr. Sunil denied all the allegations. He instead said, "As soon as the woman came to the hospital, she was asked to get her medical tests done, but the husband of the lady refused to get it done. He even refused to get his wife admitted to the labor room." The woman is 38 years old and a resident of Jangi Lal, Pipli Mohala in Pathankot.
Let's see whether any inquiry will be conducted to find out the truth and punish the guilty.
Watch Video