Published On
Patiala Clashes: Who is responsible for the violence - Intelligence or the Local Administration?
Sikh and Hindu organizations came face to face during the anti-Khalistan march in Patiala on Friday.
Author :
Priyanka Vinayak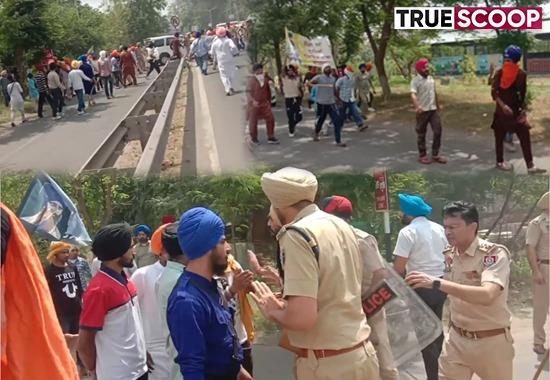 The unfortunate incident that took place on Friday in Patiala has deteriorated Punjab's atmosphere. The clash between two groups of Shiv Sena and Khalistan supporters in Patiala yesterday has put intelligence and local administration under the scanner. At the moment, questions are being raised in everyone's mind as to whether the intelligence or the local administration, is responsible for the escalation of the conflict.
Sikh and Hindu organizations came face to face during the anti-Khalistan march in Patiala. Hindu organizations were preparing to take out a march. During this time some Sikh organizations started opposing them. Due to this, the atmosphere got so bad that stone-pelting took place between the two sides.
It should also be noted that the place where this violent clash took place is just 2 km from Fawara Chowk near Kali Mata Mandir. The failure of the police to control the situation is evident. The intelligence wing had also given input to the police in this regard but the police officers took them to the constituency and the situation got out of control.
When the situation became uncontrollable after the pelting of stones at each other, the SSP on the spot tried to disperse these people by firing in the air but the question arises - Why people were not stopped from reaching these places for protest?
The police arrested Shiv Sena (Bal Thackeray) leader Harish Singla late in the night. Singla was leading this anti-Khalistan march. He has also been expelled by Shiv Sena. A meeting of Hindu organizations was called in the Kali Mata temple late in the evening. When Singla reached there, he was beaten up after an argument.
Is Harish Singla, the main culprit behind the Patiala clashes?
According to reports, Harish Singla seems to be the main culprit behind this incident. Harish Singla has already staged such protests in Punjab. Earlier, he was given security by the Punjab government, but, later on, it was taken away when the govt changed. One of the motives behind this violent clash may be Harish's withdrawal from his security. Even under the previous government, Harish Singla used to carry out such activities but at that time Harish was already under pressure.
At present, the city of Patiala which is known for its peace is in a state of complete turmoil. Some administrative reshuffles have also taken place. After the Patiala violence, CM Bhagwant Mann summoned officials led by Chief Secretary Anirudh Tewari and DGP VK Bhawra. He also expressed displeasure over DGP VK Bhawra. At the same time, orders have been issued for a high-level inquiry.