Published On
Paul Pelosi hammer attack: Shocking video shows Nancy Pelosi's husband getting brutally attacked
Paul Pelosi is the husband of former House Speaker Nancy Pelosi and he was attacked brutally by a hammer at his San Francisco home. Author :
Ujjwal Samrat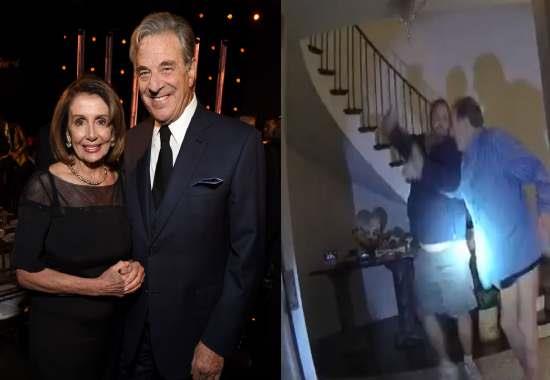 Entire America and the world went into shock after Paul Pelosi hammer attack video was made public by a California court. On Friday, a California Court made surveillance and bodycam video public of the October 2022 attack on Paul Pelosi. Paul Pelosi is the husband of former House Speaker Nancy Pelosi and he was attacked brutally by a hammer at his San Francisco home. After the court's order, Paul Pelosi hammer attack video was released by the San Francisco County Superior Court after Judge Stephen Murphy denied a request two days earlier by prosecutors to keep it secret. Notably, the Oct. 28, 2022, attack sent Paul Pelosi, 82, to the hospital for emergency surgery on a skull fracture.
In the Paul Pelosi attack video, it can be seen a pained and frightened look on Pelosi's face as he holds on to one side of the hammer, while DePape prises his fingers away shortly after they open the door to cops and ask what's going on. DePape wrestles the hammer free and quickly swings it with full force as the cops run at him during the bizarre incident at their San Francisco abode on Oct. 28. The attack left Pelosi unconscious with a fractured skull in a pool of his own blood. In the hammer attack video, Police officers can be heard ordering the men to 'drop the hammer' — to which DePape responds "Um, nope" while Pelosi obeys the order and lets go of the tool.
"Whoa! Oh, s–t!" one of the officers can be heard shouting. San Francisco police Cagney then tackled DePape and eventually pulled the hammer from his hands as Pelosi lay face-down on the ground bleeding.
Watch Video
WARNING: GRAPHIC ⚠️ Here's the body cam footage of Paul Pelosi being attacked by David DePape while the police fail to act pic.twitter.com/0uI29uBo0L

— Fifty Shades of Whey (@davenewworld_2) January 27, 2023
Why the fight took place?
Nixa High School, Missouri: Female teacher arrested for allegedly raping minor student in exchange for 'good grades'
US media reports cited San Francisco police officials who stated that officers responded to Paul Pelosi's 911 call reporting the home break-in at approximately 2:27 a.m. With their bodycams on, the arriving officers confront DePage at the front door as he was holding Pelosi with a hammer in his hand. They ask him what he's doing there.
For the unversed, the main accused DePape allegedly broke into the home searching for the former House speaker, who was in Washington at the time. Reportedly, DePape told officers and medics at the scene -"I'm sick of the insane f...ing level of lies coming out of Washington, D.C. I came here to have a little chat with his wife. I didn't really want to hurt him, but you know this was a suicide mission. I'm not going to stand here and do nothing even if it cost me my life."
Currently, DePape, 42, has pleaded not guilty to all state charges in the case, including attempted murder, assault with a deadly weapon and elder abuse. He also has pleaded not guilty to federal charges of assaulting an immediate family member of a federal official and attempted kidnapping of a federal officer for the alleged home invasion.