People from all walks of life give an affirmative response to the massive anti-drug cycle rally
Hails CM for taking this noble initiative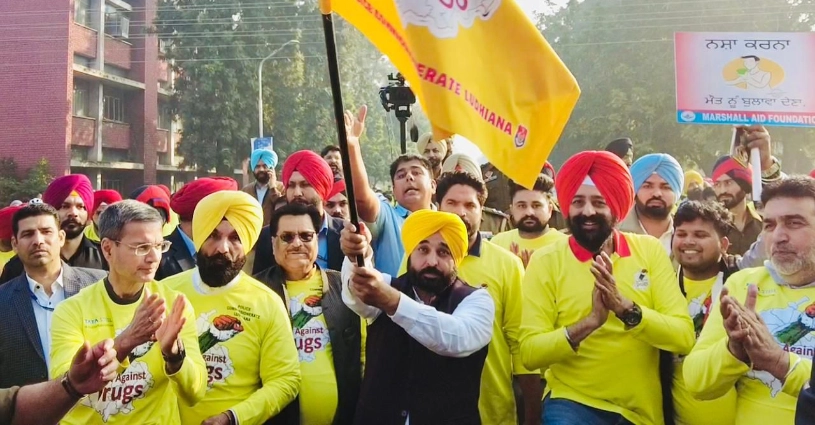 -

People from all walks of life today gave affirmative response to the massive anti drug drive organised by the Punjab government led by Chief Minister Bhagwant Singh Mann to generate awareness against drug menace.

Lauding the initiative, Mohan Singh Hussainiwala said that he came specially to attend today's rally and brought the soil of Hussainiwala with him. He said that even in the border areas, people are now supporting the Punjab government's efforts to combat the drug issue, aiming to break the backbone of drug abuse. He exuded confidence that the Punjab government's anti-drug initiatives will ultimately succeed.

Hailing this step, Barjinder Singh Bhullar said that he and his colleagues actively participate in cycling, and he commended the Punjab Government for not only addressing the drug problem but also promoting cycling. The government deserves maximum praise for this initiative, and he hopes it will encourage more people for cycling.

Supporting this noble cause, Ashwani Bassi Sunam said a similar cycle rally organized by the Punjab Police in Sangrur a year ago. Today, he came specifically from Sunam to participate in this rally for the second time, bringing soil from Shaheed Udham Singh Sunam Ji's house.

Harjit Singh Gill and Vinay Dhand highlighted Ludhiana as the hub of the bicycle industry and said initiating the rally from this city will boost the local bicycle industry and encourage widespread cycling. They commended the Punjab government's efforts to connect people with sports to bolster their physical and mental health.

Showering heaps of praise on Punjab government, Vishal Ahluwalia emphasized the importance of raising awareness about the side effects of drugs at the grassroots level to effectively eradicate the issue. He said that organising such activities are essential to sensitise and educate people about the dangers of drug abuse.

Lauding the initiative, Jasman Bombay Cycles said the Punjab government is taking comprehensive steps to eliminate the drug menace and the government is also receiving overwhelming response the public now, which is a positive sign. The government's efforts along with cooperation of people will eventually evolve into a revolutionary movement.

Welcoming the step, Anmol Singh, a student, said that he witnessed many children who fell prey to drug addiction at a young age. However, times are changing rapidly, with youngsters actively engaging in sports and cycling. He added that he and several of his friends have joined today to support the campaign launched by the Punjab government.