Published On
PFI Raids: In a massive crackdown led by NIA, over 100 PFI leaders and operatives arrested from over 10 states
In a coordinated operation, NIA's raid was in assistance of the Enforcement Directorate and respective state police and spanned over 10 states including Uttar Pradesh, Kerala, Andhra Pradesh, Telangana, Karnataka, and Tamil Nadu
Author :
Tushar Singh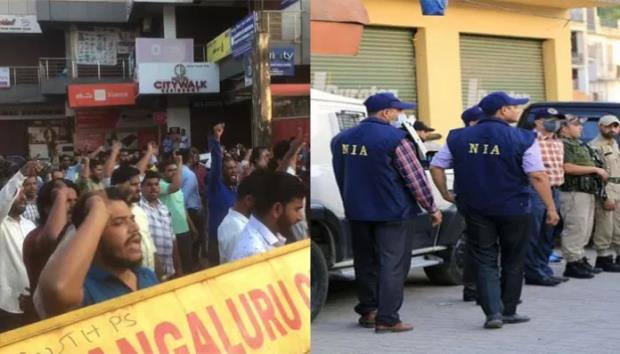 The controversial religious outfit Popular Front of India faced a severe crackdown from the National Investigation Agency that led to over 100 arrests of its top leaders and functionaries in a pan-India raid earlier this morning.
In a coordinated operation, NIA's raid was in assistance of the Enforcement Directorate and respective state police and spanned over 10 states including Uttar Pradesh, Kerala, Andhra Pradesh, Telangana, Karnataka, and Tamil Nadu.
Believed to be a "largest ever" crackdown to date, the raids and arrests have been carried out against those allegedly involved in terror funding, organizing training camps, and radicalizing youths to join extremist groups.
The maximum number of arrests was made in Kerala (22) followed by Maharashtra and Karnataka (20 each), Andhra Pradesh (5), Assam (9), Delhi (3), Madhya Pradesh (4), Puducherry (3), Tamil Nadu (10), Uttar Pradesh (8) and Rajasthan (2).
Earlier today a high-level meeting was chaired by Union Home Minister Amit Shah with NSA Ajit Doval and NIA Chief Dinkar Gupta along with Director of Intelligence Bureau Tapan Deka, and others in the meeting.
The massive outreach against the organization alleged in the terror funding came days later when the anti-terror agency charged four functionaries of PFI under UAPA after launching raids in 38 locations in the eastern states of Telangana and Andhra Pradesh.
Members of the extremist Islamic outfit staged a widespread protest in Tamil Nadu and Karnataka against the arrest of their leaders. In a statement, the organization said, "The raids are taking place at the homes of national, state, and local leaders of PFI.
Annual E-Commerce Sale: Ahead of Amazon and Flipkart's biggest annual sale, check the top deals on gadgets in line
The state committee office is also being raided. We strongly protest the fascist regime's moves to use agencies to silence dissenting voices."
About PFI:
Established in 2006, the PFI has claimed for years now to work for the marginalized and empower them. However, enforcement agencies have charged the organization to promote radical Islam.
It came under the scanner of Central agencies after the hand of a college professor in Kerala was chopped off for allegedly hurting religious sentiments through a question paper he had set.