'America has fallen': Philadelphia's Apple store & multiple showrooms looted by thousands of juveniles, Video Viral
Philadelphia Robbery was confirmed by local police who also informed that over a dozen juveniles have been arrested in the incident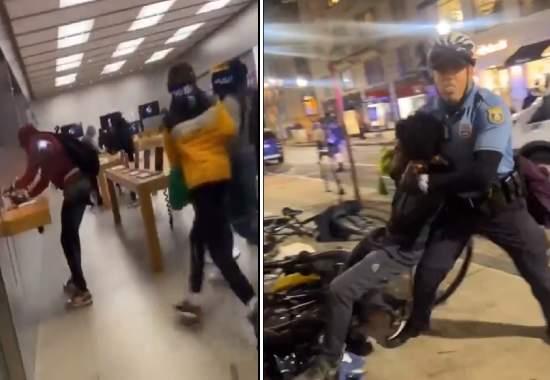 -

American authorities went into shock after law & order went on a toss when a large number of people including juveniles went on a robbing spree in Philadelphia's Center City. Philadelphia Robbery was confirmed by local police who also informed that over a dozen juveniles have been arrested in the incident. Notably, multiple Philadelphia Roberry Videos are doing rounds on social media all over the world and netizens are shell-shocked why juveniles resorted to such acts in the 'most developed country' in the world. A separate video showcased people looting Apple store in Philadelphia Center City and fleeing the spot with iPhones and MacBooks. Notably, Philadelphia Center City robbery took place on Tuesday evening and security was also assaulted at the Foot Locker.

As per US media reports, among the stores looted were the Footlocker and the Apple store near 15th and Chestnut and the Lululemon in Center City. Acting Police Commissioner John Stanford was quoted saying that Tuesday night's looting had nothing to do with the peaceful protest that took place earlier after charges were dismissed against the officer who shot and killed Eddie Irizarry. Stanford further informed that police have made 15-20 arrests so far and two firearms have been recovered, but they aren't sure if they are connected to the looting. It is pertinent to mention here that over 100 juveniles and young adults were involved but at this time police are not sure how many businesses were affected.

Watch Philadelphia Roberry Videos
🚨Just in: Apple and many stores in Philadelphia being looted. Philly is fallen! #Philadelphia #PA #looting pic.twitter.com/hnfpAJhvIp

— Stay Frosty 🇺🇲 (@brewdoggy) September 27, 2023
This happened 5 minutes from the Liberty Bell and right down the street from where the founding fathers signed the Declaration of Independence in Philadelphia.

This is what liberalism has done to our country pic.twitter.com/GVt3ENzls1

— 🇺🇸Travis🇺🇸 (@Travis_in_Flint) September 27, 2023
'Rules based order' in Philadelphia last night. pic.twitter.com/hDCzE3shhR

— Shiv Aroor (@ShivAroor) September 27, 2023
What did netizens say on Philadelphia's Center City robbery?
A user wrote, "Philadelphia shows how bad it's gonna get next year. I can't emphasize this enough and for my own karma must continue nagging you people. This isn't the same country. You need to be prepared. This isn't some short term thing you watch happen. You'll be an involuntary participant."
One more user wrote, "The IPHONE is still going to work after this looting?"
Also Read: Iran Wedding Fire Video: At least 110 dead & 150 injured as inferno turned marriage into mishap moments before bride-groom dance
Another user wrote, "What's happening? How are people so confident of looting a store and they are not running away after listening to the police sirens! Looks like that they are pretty much confident that they are going to get away with it! Maybe if people can learn to earn instead of looting!"
"America Has Fallen..." wrote another user.