Published On
PM Modi didn't condole the death of Sidhu Moose Wala but tweeted on KK's death, critics question 'why'?
Now many are raising questions about why PM Modi didn't console the death of Punjabi Singer Sidhu Moose Wala or posted anything related to his death. Author :
Rohit Gupta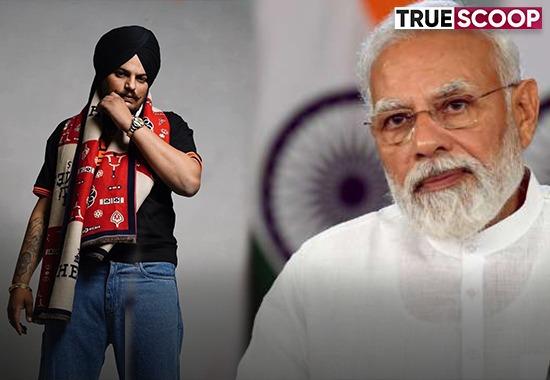 PM Modi - Sidhu Moose Wala: The case of Punjabi singer Sidhu Moose Wala's Murder in broad daylight in Punjab on May 29 is in a trend on social media besides media for the last couple of days. The case of the shooting in broad daylight of Sidhu Moose Wala, popular worldwide, has raised big questions about security in Punjab. He also tried to attack them earlier.
The matter is in trend here on social media. Many users have questioned law and order in Punjab citing the incident of stopping Prime Minister Narendra Modi's convoy. On Sunday, two unidentified assailants near Jawahar's village in Mansa, Punjab, killed him indiscriminately on Moose Wala. Punjab DGP VK Bhavra said in a press conference on Sunday that gangster Lawrence Bishnoi, who was jailed for the killing of Moose Wala, and Goldy Brar sitting in Canada is responsible.
Meanwhile, with the death of famous singer Krishnakumar Kunnath Famous Bollywood singer aka KK has passed away. On Tuesday, at the age of 53, KK made his fans cry and said goodbye to the world. Born on 23 August 1968 in the national capital Delhi, KK died on Tuesday in Kolkata, the capital of West Bengal. He had gone to perform a concert in Kolkata. After the concert, suddenly KK's health deteriorated and he collapsed. He was immediately rushed to a nearby hospital where doctors declared him brought dead.
Prime Minister Modi expressed grief over this tragic incident. He tweeted and wrote that I am saddened by the untimely demise of famous singer Krishnakumar Kunnath popularly known as KK. A wide range of emotions is reflected in his songs, which strike a chord with people of all age groups. We will always remember him through his songs.
Now many are raising questions why PM Modi didn't condole the death of Punjabi Singer Sidhu Moose Wala or posted anything related to his death which happened on Sunday where he was brutally killed in his Thar while visiting to his home in Mansa, Punjab. Many critics believe that it is because Moose Wala being a Punjabi was against the BJP's inferior act of 'Kisan Andolan' which is criticised by late singer Sidhu Moose Wala who also made a song on the same.
However, PM Modi, later on, withdrew the farmer's law and farmers ended their protest. But somehow it feels like PM Modi is not very impressed with the action of Moose Wala and his song on this movement and felt that it would be disgraceful to tweet about Moose Wala's death where he might face the wrath of a right-wing activist.
Always keep doing programs amid threats
Sidhu Moose Wala was scheduled to program on 23 July in Vancouver, Canada. Tickets were being sold online for this till 6 June. But there was a delay in starting it due to security reasons. Laura Balance, a spokesperson for Pacific National Exhibition, Vancouver at Vancouver, had expressed apprehension about security before Moses's murder.
Three years ago, Moose Wala's slot was cancelled at the 5x Block Party Festival at Central City Plaza in Surrey, East England, as there was also a threat there. In February 2019, a person was stabbed during the presence of Moose Wala at the Bollywood Banquet Hall and Convention Center. In May of the same year, bullets were fired in a banquet hall in the Calgary City of Canada, where the Moose Wala program was offered.
The case of encircling PM Modi's convoy also arose
The case of the murder of Sidhu Moose Wala on social media is in trend. While politics has been hot about this, the supporters of Pakistan's Twitter handles are also trying to spoil the atmosphere.
Read some comments ...
The user named Mubin (@Mubeen66361115) wrote-what is the coincidence! Track 295- Today's date and month 29-5, his last song was 'The Last Ride'
Social activist Khyati Grover wrote-When PM Modi was trapped on the bridge for 20 minutes and said- "To say to his CM, I returned alive", many Congressmen made fun of him. Today a Congressperson became a victim of the fragile law and order of Punjab.
Twitter handle Defend Pakistan (@defak14), made for Pakistan's support, wrote-You will be remembered as a warrior who stood for farmer rights against the oppression of the RSS regime and the people of Indian Punjab. The Indian land of Punjab should produce more sons like you.
Users named Mudbabir Masood (@Masoudmudabbir) wrote-In 2 months, AAP government achievements-explosion, Khalistani violence, attack on the temple, #Siddhumuswala right now
A user Harjit Singh (@ananya61442186) wrote-the land which was ever called blessed land, now being requisite in Punjab means a long list of enemies. No wonder why everyone is going abroad. #Shotdead #Sidhumoosewala #GoldyBRAR #Shocked
Gum Badesha, a user, wrote- Sir Justin Trudeau (@Justintrudeau- Canada's Prime Minister) Canada has a population of just 3.8 crores. It is not difficult to find a gangster-like Goldy Brar. We know that according to the region your country is quite widespread. Search and operations will take time, but our 29+ youth are losing their lives due to 2 gangsters sitting on your earth.