PM Narendra Modi's heartfelt birthday wishes to LPU Chancellor, Dr.Ashok Kumar Mittal
Prime Minister Modi's Inspiring Message to Dr. Ashok Kumar Mittal and LPU"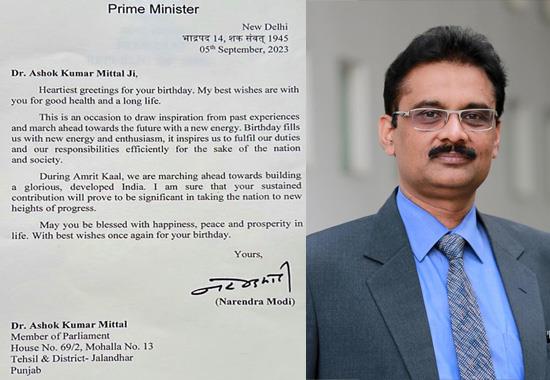 -

Lovely Professional University (LPU) is delighted to announce that the Honorable Prime Minister of India, Shri Narendra Modi, has graciously extended his heartfelt birthday wishes to Dr Ashok Kumar Mittal, the Founder Chancellor of LPU and Member of Parliament.

In his message, Prime Minister Modi expressed his anticipation of Dr Mittal's sustained contributions in taking India to new heights of progress. The Prime Minister's wishes reflect his appreciation for Dr Mittal's visionary leadership and unwavering commitment to the development of the nation.

The Prime Minister has visited LPU campus, where he passionately advocated for research and innovation during the 106th session of the Indian Science Congress (ISC). During his visit to LPU PM Modi added the slogan of "Jai Anusandhan" to 'Jai Jawan, Jai Kisan and Jai Vigyan' slogan.

Recognizing Dr Mittal's foresight and abilities, Prime Minister Modi also referred to the concept of "The Era of Elixir (Amrit Kaal)" as means to build a glorious and developed 'New India.'

In his personalized letter, spanning 15 lines, Prime Minister Modi conveyed his wishes for Dr Mittal's good health and long life, encouraging him to continue marching ahead with renewed energy and enthusiasm. The Prime Minister emphasized that special occasions like birthdays inspire individuals to fulfill their duties and responsibilities efficiently for the betterment of the nation and society.

This exceptional gesture from a globally esteemed leader not only highlights the remarkable eminence of Dr Mittal and the LPU family but also underscores LPU's pivotal role in shaping the future of education in India. As an institution at the forefront of innovation and excellence, LPU continues to garner recognition from the highest echelons of leadership.

LPU is immensely proud and joyously celebrates this momentous occasion, rejoicing in the appreciation and support received from Prime Minister Narendra Modi.