Published On
Post Sushil Rinku's win in bypoll, Rs 95.16 cr released for Jalandhar beautification project; Know key announcements
Punjab CM Bhagwant Mann stated that the state government has already released a sum of Rs 95.16 crore for the beautification of Jalandhar. Author :
Malkit Singh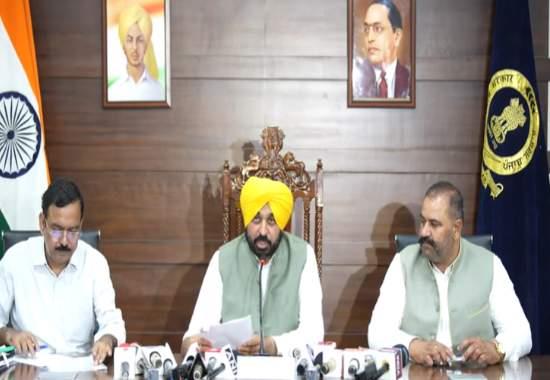 Punjab Chief Minister Bhagwant Mann on Wednesday made a series of key announcements for Jalandhar and other districts of Punjab. Punjab CM Bhagwant Mann called a cabinet meeting 'Sarkar Tuhade Dwar' for the first time in Jalandhar after AAP's candidate Sushil Rinku had won Lok Sabha Byelection and broke the Congress' stronghold. CM Mann had called Cabinet Meeting in Jalandhar after the MP-elect Sushil Rinku had met him and AAP Supremo Arvind Kejriwal and presented a roadmap for the development of the Jalandhar constituency. In a series of key announcements, Punjab CM Bhagwant Mann stated that the state government has already released a sum of Rs 95.16 crore for the beautification of Jalandhar. Furthermore, CM Mann stated that as promised before the Jalandhar byelection, the road construction work of Adampur and Nakodar to Phillaur will also start.
Addressing the people, CM Mann said, "An amount of ₹ 95.16 crore has been released as the first installment to the Municipal Commissioner to brighten up the city of Jalandhar...Approval has been given to start the road works from Adampur and Nakodar to Phillaur..The work of building both the roads will be completed by the month of September 2023."
What are the other key announcements made by Punjab CM after Jalandhar Cabinet meeting?
Punjab CM announced that the Government Ayurvedic College, Patiala, will be handed over to Shri Guru Ravidaas Ayurvedic University, Hoshiarpur, and new ayurvedic research would be encouraged. Furthermore, the training period for maal patwaris would be reduced to two years and counted in the probation period. Not only this, but also the services of safai sewaks with rural development department would be extended by a year. In this, a total of 497 safai (cleanliness) karamcharis (workers) would benefit from it.
ਜਲੰਧਰ ਵਿਖੇ ਹੋਈ ਕੈਬਨਿਟ ਦੀ ਅਹਿਮ ਮੀਟਿੰਗ ਤੋਂ ਬਾਅਦ….ਮੀਡੀਆ ਦੇ ਰੂ-ਬ-ਰੂ https://t.co/gnSl2B1DyL

— Bhagwant Mann (@BhagwantMann) May 17, 2023
Apart from this, the employees of GADVASU, Ludhiana would get revised salaries as per the UGC on par with master cadre. Furthermore, the land acquired at Gobindpura in Mansa had been approved for a solar and renewable energy project.
In a first for Jalandhar, Mann govt calls Cabinet meet post Byelection win; development key agenda
Jalandhar's first cabinet meeting
True Scoop News on Tuesday hin its writeup had stated what decisions Punjab CM can make and it had stated that the construction of roads will be one of them. The cabinet meeting on May 17 was the first for Jalandhar under 'Sarkar Tuhade Dwar. Punjab Government's Sarkar Tuhade Dwar, it is an initiative launched by the Bhagwant Mann government which is basically a people-friendly initiative. As per Punjab CM, this program will bring governance to the doorsteps of the people thereby empowering them in a real sense. He said that this move will prove to be a game changer by ensuring optimal usage of Human Resources as well as the timely implementation of various welfare programs Notably, Bhagwant Mann's first Sarkar Tuhade Dwar's meeting held in Ludhiana and now it took place in Jalandhar on May 17.