Published On
Priyanka Chopra shares fun throwback video of Love Again cast singing Celine Dion's song with Nick Jonas cameo
Priyanka Chopra shares a throwback video on Instagram featuring the cast and crew of Love Again singing and jamming to Celine Dion's song, with a surprise cameo by her husband, Nick Jonas. Author :
Malkit Singh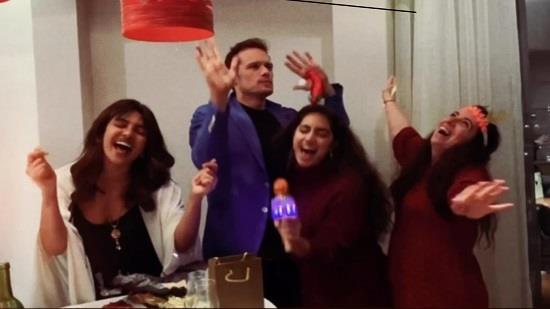 Actress Priyanka Chopra made headlines when she shared a fun throwback video on her Instagram account on Thursday. The video features the cast and crew of her latest film Love Again, including co-stars Sam Heughan and Sofia Barclay, singing and jamming to Celine Dion's hit song, "It's All Coming Back To Me Now".
The behind-the-scenes video shows Priyanka and her co-stars having a blast as they sang their hearts out during the shooting of Love Again on Christmas Eve in 2020. The producer of the film, Esther Hornstein, is also a part of the video. However, the surprise element in the video was the cameo appearance of Priyanka's husband, Nick Jonas, who joined in the fun towards the end of the video and sang the song with them.
The video has been receiving a lot of love from fans, who have called it "wholesome" and have praised Priyanka and Celine Dion. It has already garnered over 19.8k views and numerous comments within a few hours of being shared on Instagram.
Parineeti Chopra-Raghav Chadha engagement date, venue, guests list & everything we know so far
Priyanka has been busy promoting her latest film, Love Again, a romantic comedy directed by James C Strouse, which also stars Celine Dion. The trailer of the film showed Priyanka sharing an awkward kissing scene with her real-life husband, Nick Jonas, who played her date in the movie.
During an appearance on the US chat show Live With Kelly and Ryan, Priyanka spoke about the scene and revealed that they were earlier going to cast a "random guy" for the role. However, since Nick was in town, the director suggested they ask him to play Priyanka's date. Priyanka expressed her gratitude that it was her husband who played the part.