Promoting Vigilance and Integrity Punjab Vigilance Bureau Took Pledge on Vigilance Awareness Week
Weeklong Programs Planned Across Punjab to Foster Corruption-Free State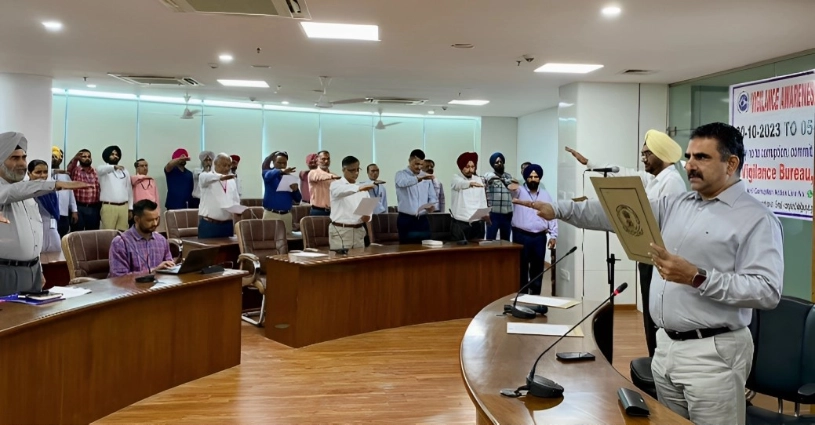 -

In a resolute effort to nurture transparency, accountability, probity, and integrity within society and public servants, the Punjab Vigilance Bureau (VB) has set in motion the observance of 'Vigilance Awareness Week' till November 5.' This week is dedicated to raising awareness about the pernicious effects of corruption with moto of the year 'Say no to corruption: commit to the Nation'.

The commencement of this week witnessed the endorsement of Punjab's Chief Minister, Bhagwant Mann, who has conveyed a strong message to the public. He urged citizens to join hands with the government in the fight against corruption, with the shared aspiration of delivering an administration entirely free from the clutches of corruption.

In his message, the Chief Minister encouraged individuals to share accurate information through the Anti-Corruption Action Line on WhatsApp, reachable at 95012-00200. He assured that any corrupt practices would be met with stern actions, exemplifying the government's unwavering commitment to eradicating corruption.

Disclosing these initiatives, Varinder Kumar, DGP-cum-Chief Director of the VB, emphasized that this week-long awareness campaign aims to empower the public as active contributors in the collective mission of eradicating corruption from governmental offices and society at large. The 'Vigilance Awareness Week' stands as a powerful reminder of the collective responsibility we all share in building a corruption-free Punjab", he added.

The VB Chief further informed that during this week all field officers would endeavor to engage the public as fervent participants in the noble cause of creating a 'corruption-free state.' It would also serve as a source of motivation for officers and officials to effectively implement preventive measures, ensuring that transparency and accountability remain paramount, he emphasised.

Chief Director Varinder Kumar called upon all officers and officials to work diligently, clearing the backlog of pending vigilance cases, further bolstering the fight against corruption.

During inauguration of the Vigilance Awareness Week, Kanwaldeep Singh, Joint Director Administration, Vigilance Bureau, administered the integrity pledge to all officers and employees of the bureau. On the occasion Gursewak Singh and Arun Saini, both Joint Directors, Manmohan Kumar, Daljit Singh, and Digvijay Kapil, all AIGs, Gurmeet Singh, SSP VB Range Ferozepur, and all officials at the headquarters attended the oath taking ceremony.

The VB Chief further informed that Vigilance Awareness Week was also actively organized in all vigilance ranges and sub-divisions where all field officers/officials took the oath of integrity, emphasizing the imperative need for maintaining high ethical standards in their roles. He added that range SSPs have also devised a multitude of awareness programs scheduled for educational institutions and offices throughout the week.