Published On
Protests in Chandigarh over questioning of Rahul Gandhi: Congressmen try to gherao Governor's house
Police in Chandigarh booked congressmen, who are protesting and trying to gherao the Governor's house.
Author :
Chanderveer Singh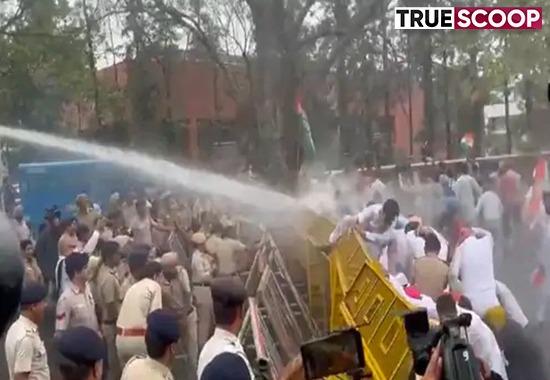 Punjab Congress protest vigorously in Chandigarh. Congress is opposing the Enforcement Directorate (ED)'s interrogation of Rahul Gandhi. When the Congressmen reached the Governor's House to protest, they were stopped by the Chandigarh Police on the way. Congressmen tried to go ahead by breaking the barricading.
Apart from Punjab Congress President Amarinder Singh Raja Wading and Youth Congress President Barinder Dhillon, Congress workers climbed the barricade. After this, the police swung into action and used water cannon on them. After which about 90 Congressmen were taken into custody by the Chandigarh Police. All these have been kept in the police station of Sector 3.
Youth Congress President Barinder Dhillon said that Rahul Gandhi is being held unnecessarily for hours. While everything is written on paper. The Modi government at the Center and the Bharatiya Janata Party are taking such action under political vendetta. Which cannot be tolerated at all.