Published On
Punjab Gangsters Recruitment: Davinder Bambiha's Group asks people to join 'gangster's group' in his bizarre FB post; Details Inside
The person who has put up this post is a wanted gangster by Gujarat, Maharashtra and now Punjab Police. Author :
Guneet kaur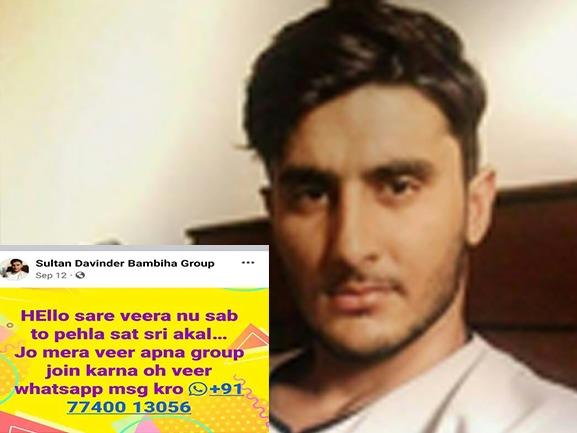 A big black cloud of gang war has been hovering over Punjab from the time singer Sidhu Moosewala has got murdered and Lawrence's Bishnoi gang took full responsibility for the same. The rivalry between Bambiha and Bishnoi gang went to the next level when the latter gang attached the name of the singer to the former gang.
Amidst this, the Bambiha gang has not kept calm and also said that although the singer was not related to their gang if the name has been associated with them, then they will surely take revenge for his death. Since that time Punjab Police is trying its best to control the activities related to terror in the state. Recently, a Facebook post shared by a prominent member of the Bambiha gang, Davinder Bambiha is pointing out that instead of decreasing, the number of gangster-related activities might see a rise as the gang is all set to recruit some new members in their gang.
Reportedly, in order to connect more youth with the gang, the Bambiha gang has issued a WhatsApp number through an FB post and has written that whosoever wants to join the gang should come in contact through this number. The number reads 77400 13056. These gangsters are trying to create an impact on the youth by representing themselves as role models.
The person who has put up this post is a wanted gangster by Gujarat, Maharashtra and now Punjab Police. He was caught by the Faridkot police on 11 June 2014 from Ludhiana. Although he got arrested by the police but did not spend much time in prison. Bambiha along with his 4 close allies escaped from jail on 20 January 2015. Since that time, the gangster has been absconding from the police.
Recently, Sandeep Bishnoi was killed in Rajasthan as some miscreants came on the bike and shot him dead with 9 bullets. After his murder, Davinder Bambiha posted on FB saying that he takes all the responsibility for the murder of Sandeep Bishnoi. He further added that Lawrence, Jaggu and Goldie are also on the hit list.
Since this, the Punjab Police has been giving its best efforts to find this gangster and charge him in the cases that he is involved in.