Punjab Police bust inter-state illegal opioid supply and manufacturing network running from pharma factories in Delhi & Haryana
Punjab Police committed to making Punjab a drug-free state as per the vision of CM Bhagwant Singh Mann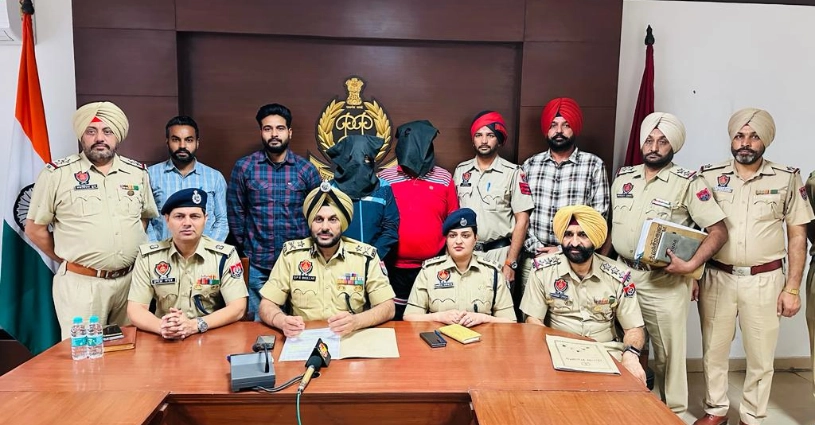 -

In a major intelligence-based operation against Pharma Opioids amidst the ongoing war against drugs launched on the directions of Chief Minister Bhagwant Singh Mann, Punjab Police have busted an interstate network of illegal opioid manufacturing and supply units from pharma factories based in Delhi and Haryana, said Director General of Police (DGP) Gaurav Yadav here on Thursday.

The development came after the three-month-long meticulous investigations of backward and forward linkages carried out by the Fategarh Sahib Police into the arrest of a local drug peddler identified as Gaurav Singh alias Kaala Ambala, Haryana, who was arrested after recovery of 44 Leegesic injections and 44 Avil injections.

DGP Gaurav Yadav said that following the trail after the arrest of a supplier, Fatehgarh Police teams have managed to trace and arrest the manufacturer of illegal pharma identified as Sumit Agarwal of Delhi, who is the owner of Paksons Pharmaceuticals Pvt. Ltd. having units in Rohini in Delhi and Bahadurgarh in Haryana.

He said that the team comprising police personnel from CIA Fatehgarh Sahib and two drug inspectors also raided the pharma factory in Bahadurgarh in the presence of their local drug Inspector and seized numerous illegal trading, financials, transport documents along with approximately Rs 6 Lakh unlabelled injections from the factory. This is in addition to the 3.24 lakh tablets/capsules/injections/vials and Rs 2.20 lakh drug money already recovered in this case, he added.

So far, Police teams have arrested seven persons in this case. Five other accused arrested persons have been identified as Mohammad Arbaaz, Mohammad Salman, Mohammad Sahbez, Rakesh Kumar, and Ghanshyam Sharma.

Inspector General of Police (IGP) Ropar Range Gurpreet Singh Bhullar, who accompanied by SSP Fatehgarh Sahib Dr. Ravjot Kaur Grewal was addressing a press conference, said that following the arrest of Gaurav, Fatehgarh Sahib Police raided the illegal chemists, pharmacies, and illegal godowns, which led to the arrest of three more suppliers including Mohammad Arbaaz, Mohammad Salman, and Mohammad Sahbez.

He said that during the interrogation of these three suppliers, it came to light that they were purchasing drugs from Agra. Police teams have arrested another accused person identified as Rakesh Kumar, who owns an illegal godown of drugs in Agra.

The arrested accused Rakesh further revealed that he is in contact with a person identified as Ghanshyam Sharma of Loni Dehat in Ghaziabad, who is the wholesaler of drugs and has his own medical agency Shri Shyama, said the IGP while adding that Ghanshyam was then arrested on November 11, 2023, which finally led to the arrest of manufacturer Sumit Agarwal.

A case FIR No. 60 dated 12.08.23 had already been registered under section 22C of the NDPS Act at Police Station Mulepur in Fatehgarh Sahib.