Published On
Punjab Police cancels arms licenses of 9 Amritpal Singh's associates over clash at Ajnala Police Station
Police have released no official statement on this and are secretly taking steps against people involved in Ajnala clash Author :
Guneet kaur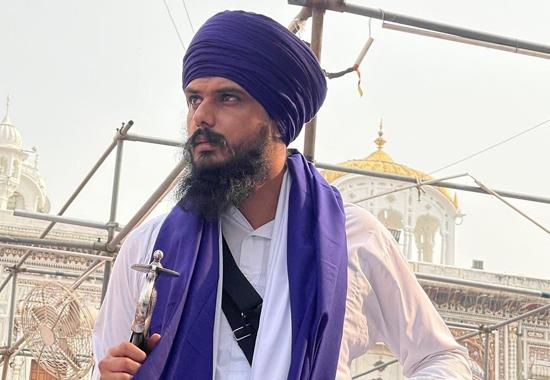 In the latest development regarding the protest at Ajnala Police Station, Punjab Police has taken a strict action against Waris Punjab De Chief Amritpal Singh's associates. Although police have not officially stated it but there is information that the arms licenses of 9 associates of Amritpal Singh have been cancelled.
Reportedly, to make sure that no such clash like the Ajnala Police Station takes place in future, Punjab Police decided to take a stern action. They cancelled arms licenses of Waris Punjab De Chief's close associates namely Harjit Singh Amritsar, Baljinder Singh Amritsar, Ram Singh Brar Kotkapura, Gurmat Singh Moga, Avtar Singh Sangrur, Varinder Singh Tarn Taran, Harpreet Devgan Patiala, Amritpal Singh Tarn Taran and Gurbej Singh. The license of Talwinder Singh from Tarn Taran has also been sent to Jammu and Kashmir for review as it was made there.
After the violent incident outside Ajnala Police Station in Amritsar, Punjab, the Punjab Police has started a covert action. Police have canceled the arms licenses of 9 associates of Waris Punjab De Jathedar Amritpal Singh. A senior police officer stated that Punjab Police took action against 9 Amritpal's associates who were also present during the clash in Ajnala.
For the unversed, a few weeks back Waris Punjab De Chief Amritpal Singh's close aid Lovepreet Singh Toofan was arrested by Ajnala Police for kidnapping and assaulting a person. This led to the announcement of a peaceful protest by Amritpal Singh outside the concerned police station. However, the protest did not remain peaceful and turned into a violent clash where policemen were attacked with swords and stones. After this Toofan was released from jail as no evidence was found against him. During the clash, around 6 police officers got injured. SP Ajnala was referred to Amritsar Hospital as his condition was serious.