Punjab Police vehicle Instagram reel controversy: Influencer Payal Param apologizes after SHO suspension; Watch
Punjab Police takes action and influencer apologizes after SHO suspension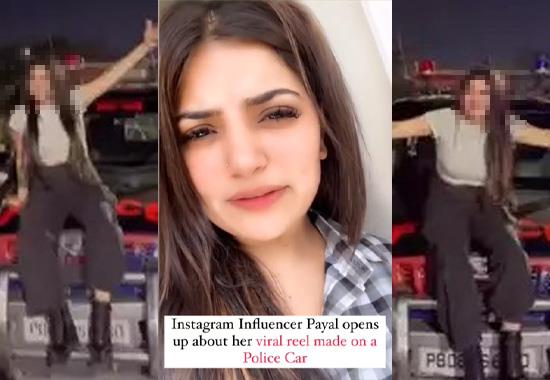 -

Social media influencers in Punjab have once again stirred up controversy, this time involving a Punjab Police Mahindra Scorpio. Such incidents highlight the extremes some influencers go to for their Instagram content, often leading to legal and ethical dilemmas.

Influencers and their quest for content:

Social media influencers are known for their creativity in generating content for their Instagram profiles. However, their actions can sometimes lead to public outrage, either through traffic violations or by causing trouble for others.

The controversial Instagram reel:

In a recent incident, a video emerged of a young woman dancing on the bonnet of a Punjab Police Mahindra Scorpio while throwing abusive gestures towards the camera. This action led to repercussions for the police officer involved.

SHO suspended over permission:

The Punjab Police took swift action by suspending SHO Ashok Sharma, who allowed the content creator to use the government vehicle for her Instagram reel. The controversy gained momentum on social media, eventually leading to the removal of the video from the influencer's Instagram account.

Influencer's apology:

In response to the backlash, the influencer, Payal Param, addressed her followers on social media. She admitted that she uploaded the video casually, not anticipating the negative response it would receive. She explained that the vehicle belonged to the suspended police officer and that she had obtained his permission before creating the video.

If you haven't seen the apology reel yet, here's the apology video:

Also Read: Who is the Instagram influencer whose reel got Jalandhar Div. 4 SHO suspended? View this post on Instagram A post shared by True Scoop (@truescoop)
Misinterpretation of intent:
Payal Param clarified that her intention was not to defame anyone but rather to celebrate a friend's birthday. She expressed regret for the unintended consequences of her actions and apologized for any misunderstanding.
A trend of risky social media behavior:
Incidents like these are becoming increasingly common, prompting law enforcement agencies to take action. The widespread use of CCTV cameras and vigilant monitoring of social media videos have enabled authorities to crack down on such behavior.
Ensuring road safety:
To curb these violations and enhance road safety, the government is implementing stricter measures. It's vital for social media users to realize the importance of responsible content creation and avoid actions that endanger lives or flout the law.
Conclusion:
The Punjab Police Mahindra Scorpio Instagram reel controversy serves as a reminder of the influence social media has on public behavior. While influencers seek engagement and views, they must do so responsibly, respecting the law and the safety of others on the road. Law enforcement agencies and vigilant citizens are working together to ensure a safer digital and physical environment.