Published On
Punjab: Railway services to be disrupted for 3 hours in 12 districts amidst farmers' protest
On 29th January 2023 farmers will block railway tracks from 12 noon to 3pm Author :
Guneet kaur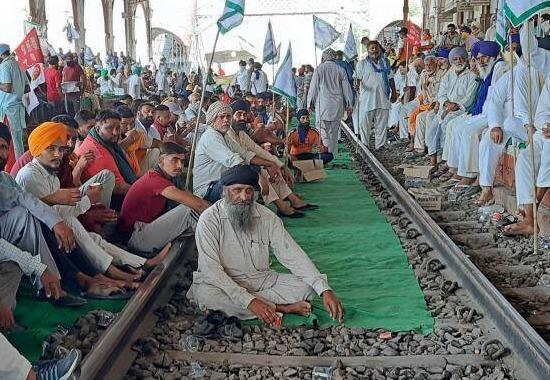 The farmers and their unions on Saturday announced to block of railways all over Punjab on 29th January 2023 in order to protest against the central and state government. They will be blocking the railway lines because of the demands that were promised by the government but have not been fulfilled till now.
Reportedly, on 29th January 2023 farmers will block railway tracks from 12 noon to 3pm. The trains will be stopped for 3 hours at 14 places in 12 districts in the state. Including Jalandhar and Kapurthala, Jalandhar Cantt, Amritsar Devidaspura (Jandiala Guru), Gurdaspur Railway Station, Tarn Taran Khadur Sahib Station, Patti Station, Tarn Taran Railway Station, Gurdaspur Batala Railway Station, Firozpur Basti Tanka Wali, Gur Har Sarai, Moga Railway Station, Muktsar Malout Railway Station, Fazilka Railway Station, Mansa Railway Station, Hoshiarpur Tanda Railway Station and Ludhiana Railway Station.
Due to this protest many trains will be disrupted and passengers may have to face various troubles. As per information the Mazdoor Kisan Sangharsh Committee is blocking railway tracks in protest against the promises made by the central and state governments. Sarwan Singh Pandher, the head of the Mazdoor Kisan Sangharsh Committee while announcing about the protest demanded that government should arrest all the BJP and RSS leaders who threw petrol bombs at them during farmers' protest. He added that these leaders also pelted stones at the farmers and tore their tents to stop the protest.
The farmers have demanded that bail of the people accused in Lakhimpur Kheri case should be canceled and Ajay Mishra Taini should be arrested. They added that the price of sugarcane should be increased to Rs 500 per quintal. Their demands further include appropriate compensation should be given to the farmers whose land is coming under the Bharat Mala project. Farmers want that Punjab government should give proper compensation to the families of the martyred farmers and give a job to one of the family members. Lastly, they said that the bill that has been proposed regarding electricity should also be withdrawn.