Published On
Mohali Viral Video: Giant Wheel swing crash in fair leaves many people injured, watch
The giant joyride broke down in Mohali, Punjab on Sunday night. The incident has left many people on it injured
Author :
Guneet kaur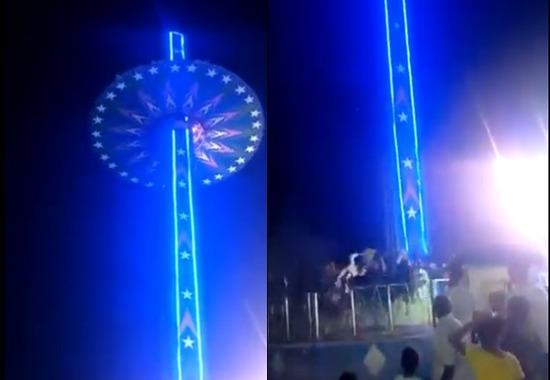 The swing that is made for everybody's entertainment has turned into a traumatic ride for some of the people last night. The giant swing at a fair in Dussehra Ground of Mohali, Punjab fell from a height on Sunday night. Around 50 people were present on the swing when it fell on the ground with a great thud and created a lot of hustle and bustle on the spot.
In the video, it can be seen that the people riding are swinging out of the chairs due to the noise and impact which also caused panic in the people present around the swing.
Live Visual of swing breaking in #Mohali phase 8, Many people got injured. Around 16 women & kids were hospitalised after the incident.#Punjab

Via-@NikhilCh_ pic.twitter.com/cKlAJBuI3x

— Siraj Noorani (@sirajnoorani) September 4, 2022
The Deputy Superintendent of Police, Harsimran Singh Bal said that all the organizers had permission to do the show, but if anyone committed a mistake then that person will not be spared. He also added that strict action will be taken against the person who is responsible for all his.
The police officials have said that instead of helping the injured people, organizers were playing blame games there. Also, not even a single ambulance was present at the fair which is a huge mistake on the part of the organizers of the show.
At least 10 people including women and children have got injured. After getting to know about the incident, the police rushed to the spot and evacuated everyone.
All the injured were rushed to the civil hospital in Mohali to get timely treatment, police said.
The reason for the fall of the swing is still unknown and the investigation is being carried out by the police.