Punjab will soon leave behind China in industrial development, says Kejriwal
Asserts that earlier governments had squeezed industrialists but we are working overtime to facilitate economic activity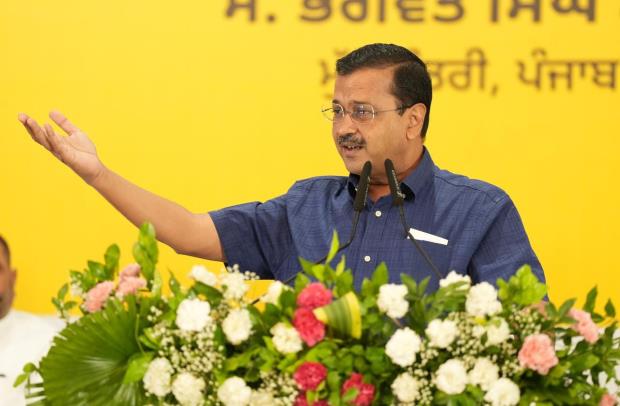 -

Delhi Chief Minister Arvind Kejriwal on Thursday said that Punjab has huge potential of leaving behind China in the sphere of industrial development.

Addressing the gathering during the Sarkaar Sannatkaar milni here today, the Delhi Chief Minister said that Punjabis are born entrepreneurs and leaders due to which they have proved their mettle across the globe. He said that the hard work and resilience of the Punjabis is unmatched due to which they excel in every sphere. Arvind Kejriwal said that this spirit of utilised properly can be duly used for taking Punjabi industry ahead of China.

The Delhi Chief Minister said that the earlier governments had squeezed the industrialists in the state but the present government is working overtime for their well being. He said that this milni is a step forward towards resolving all the issues faced by industrialists. Arvind Kejriwal gave clarion call to industrialists for carving out a new and Rangla Punjab.

The Delhi Chief Minister said that Punjab will soon lead the country in every sphere as Bhagwant Singh Mann is working overtime for welfare of Punjabis. He said that the Chief Minister is moving in every nook and corner of the state to solve the issues faced by Punjabis. Arvind Kejriwal said that Punjabis are lucky to have got a Chief Minister like Bhagwant Singh Mann is serving them with missionary zeal.

The Delhi Chief Minister said that they had given guarantees to the industrialists during the run up for

Elections. He said that it is heartening to learn that most of these guarantees have been delivered. Arvind Kejriwal said the state government had received several suggestions from the industrialists after which people have been given respite.

The Delhi Chief Minister said that the interaction is not for getting votes but to assure that we are with industry. He said that in Punjab industrial development is going on in planned way. Arvind Kejriwal said that the state has already firmed up investment worth Rs 50,000 crore for the state which will provide 2.86 lakh jobs for youth.

The Delhi Chief Minister said that there was a time when industrialists were leaving the state out of fear of being looted. He said that now the purpose of this milni is to expand the local industry of state ten times. Arvind Kejriwal said that the vision and ideas of industrialists coupled with support from state government will help in promoting industry in state.