Published On
Punjabi Actor Aman Dhaliwal attacked with knife in America, condition serious; watch
The accused has been arrested by police and investigation is underway Author :
Guneet kaur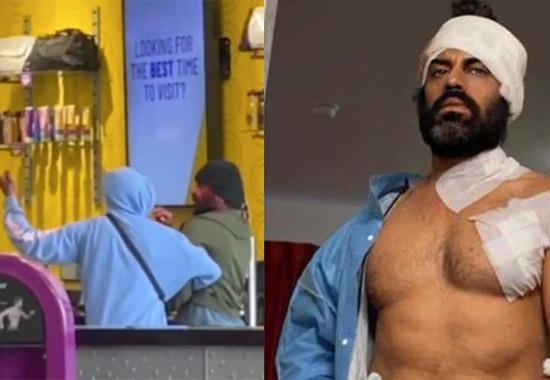 In the latest development, famous Punjabi actor Aman Dhaliwal was attacked with knife by a miscreant in America. He was then admitted to the nearest hospital and is undergoing treatment. Police have arrested the accused.
Reportedly, Aman Dhaliwal was attacked in a gym in America. The accused threatened everyone in the gym while Aman was on knifepoint. Later, Aman Dhaliwal dodged the accused and got hold of him with other people present there. The accused was then handed over to police.
Video that has gone viral shows accused asking for water from people around while Aman is at knife point. After sometime, Aman finds an appropriate situation and gets hold of accused while other people also tried to let him not run away. Post this, police were called and accused was handed over to them. Actor Aman Dhaliwal is currently in hospital and undergoing a treatment. A photo of him covered with bandages has surfaced from hospital and as per doctors, his situation was critical when brought to hospital. Investigation and questioning of accused in underway.
Who is Aman Dhaliwal?
Aman Dhaliwal, resident of Mansa is a famous Pollywood actor and has also worked in various Bollywood films. Aman Dhaliwal went to Delhi for higher studies and got into modelling during higher studies. Post this, he shifted to Mumbai for better career opportunities in acting field. He came into the limelight for the first time when 'Jogiya ve Jogiya Teri Jogan Ho Gaya Aan' song of him was released. In Pollywood, he won everyone's heart by showing his acting in films like 'Ek Kudi Punjab Di' and Virsa. Apart from this, talking about Bollywood Aman Dhaliwal has worked in Jodha Akbar along with Hritik Roshan and Aishwarya Rai.
Actor Aman Dhaliwal attacked with knife #amandhaliwal #punjabactor #attack #truescoop #truescoopnews pic.twitter.com/5nzDQxb7kL

— True Scoop (@TrueScoopNews) March 16, 2023