Punjabi singer Shubh breaks silence on him flashing Pro Khalistan artwork hoodie in viral video
Shubh has finally broken his silence on the viral London Concert video and hinted that he was tricked into flashing the hoodie that glorified Indira Gandhi's assassins.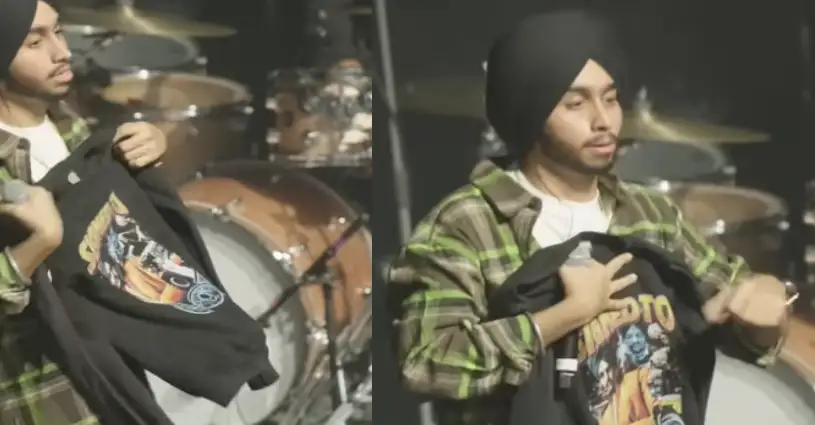 -

Canada-based Punjabi singer Shubh late Tuesday night broke his silence on the viral video showing him flaunting a black hoodie that mocked Indira Gandhi's assassination. Punjabi singer Shubh came under the scanner of social media on Tuesday after his first ever concert that took place in London turned out to be a controversial one when a video surfaced online showing him promoting a hoodie on which Indira Gandhi's assassination saga was printed. Now, Shubh has finally broken his silence on the viral London Concert video on Pro Khalistan artwork hoodie.
Shubh's response on Indira Gandhi assassination hoodie
Shubh took to his Instagram handle and posted his statement on his story which said, "No matter what I do, some people will find something to bring it against me. A lot of clothes, jewellery and phones were thrown at me by the audience at my first show in London. I was there to perform, not to see what got thrown at me and what is on it. The team has worked very hard for the last couple of months to perform for you all. STOP SPREADING HATE AND NEGATIVITY."
Furthermore, Shubh shared a video in his story showing fans throwing random things including clothes and jewellary and he was flashing them without even looking. The video was shared as a clarification that Shubh did not know that the hoodie was glorifying the killers of former Prime Minister of India- Indira Gandhi.
Did Shubh get tricked by Pro Khalistan outfits?
As per reports, Shubh did not flash a hoodie with Pro Khalistan artwork. The hoodie that he flashed on stage did not have the Indira Gandhi illustration, but instead, it had a map of Punjab on it, with the districts clearly outlined.
The video was allegedly edited by pro Khalistan outfits and shared on social media. The report further suggested that Shubh was apparently "tricked" into holding a hoodie during his concert in London that looked like a newly launched hoodie with artwork celebrating the assassination of former Prime Minister of India Indira Gandhi.
The hoodie was reportedly created by a pro-Khalistani clothing line, Akaal Clothing, that shared the video on their Instagram account as well.